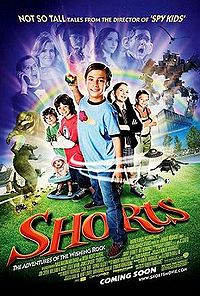 Shorts is a family adventure film directed by Robert Rodriguez. One of  the reasons to pick it this Saturday night was Jimmy Bennett who has the leading role in the film. Another reason was its official trailer – which made the film look really cool . . .
The story is told first person by Tobby who looks amazingly  alike a friend of mine. (or is it just the bracelets) He is smart, unique and a bit weird 11 year old kid whose quest towards friendship leads him through great adventures. Its kinda of tough to describe the plot as things are happening an random, in an almost chaotic manner.
Basically we have a rainbow colored magic rock which can make everyone's wishes come true or at least the ones of the person who is holding it . . . and as you can imagine the rock changes its owner quite a lot in the film.
Its the gadget lover in me that loved the film, even if it is not in the genre I usually watch. No drama this time, even less reality or emotions; but what it has in abundance is entertainment (for some).
Admittedly most of the jokes in the film are kinda funky and even grouse at times; but that is exactly what the targeted audience (wild preteens with even wilder fantasies) will be looking for. Then there are all those
references to technology in parody, like the Apple Iphone, one device does it all. But the more features, the less battery life. Those things are likely to be picked up by the teens and all the geeks out there.
I could not really decide if I should recommend "Shorts" or not.  It's  really rather  pointless and you are not likely to learn anything from it; But after all there are times when we all wanna see a film just like that.  I can't really comment on the acting as nothing really impressed me in that respect.  I guess the visuals were OK if you don't mind the abundance of special effects.
In the end however, even "I" spent  some  time thinking what I would wish for if I had that magic stone . . .