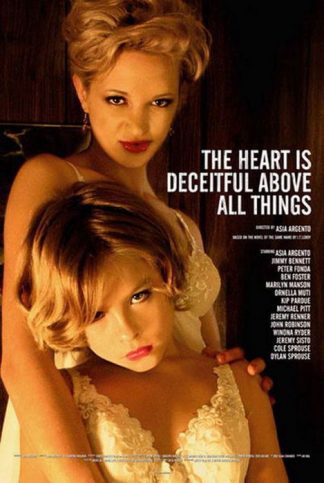 The Heart Is Deceitful Above All Things is a disturbing movie. In fact, a movie just  can't get any more disturbing. This suggests that the movie is hard to watch – but worth watching. My opinion may be a bit biased as I tend to like serious and powerful dramas like The Heart Is Deceitful Above All Things.
The film opens with a scene in which a seven year old boy, Jeremiah (Jimmy Bennett), is taken away from his foster parents because his biological mother declares her right to the custody of her son. She turns out to be an irresponsible, abusive, drug obsessed hooker – totally unsuitable for the role of a caring parent – and yet the boy is given to her. A short scene shows his room when he was living with his foster parents and this is compared with the new environment in which he is to grow up.
The story is told from Jeremiah's perspective – most scenes are shot from his eye level (and his mental images as well) .
His "real" mother gives him some pills (XTC probably) while presenting them as a medicine . At such a tender age – one can only imagine the damage drugs can do. But the 23 year old junkie not only allows her son to consume beer and pills, but actively encourages him to do so. At one point, when they are in the car and he goes crazy, she asks him what  he's doing and he replies: "I am digging myself out".
Then the movie gets even harder to watch. The boy gets beaten by one of his mom's random boyfriends, in front of her and actually because of her, with her approval.  She even suggests they put a sock in his month so he can't scream loud. But that incident is nothing compared to what the another boyfriend does to the boy …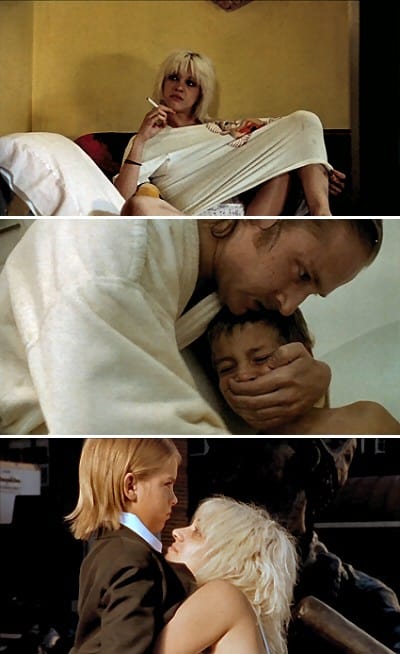 The director mercifully does not show us the disturbing scenes in detail and it was not necessary to do so as one was still able to get an idea of what was happening.
After the disappearance of his mother, Jeremiah is taken by his grandfather, who turns out to be a fanatical religious Christian (I have heard that there are such people in the states, but thankfully never met them while I was there).  One starts wondering what is worse – living with him mom or when the kid faces a complete brainwash by the fanatic people who live in his granddad's mansion. Those scenes reminded me of the movie Jesus Camp, which I saw few months ago.
Surrealistic animated scenes show the fantasy world of Jeremiah, populated by a pair of red crows. He dips into this world when he experiences extreme pain and extreme trauma and it only shows that even his fantasies lead him to an unpleasant place.
The acting in the movie is first class. Starting with Jeremiah, excellently played by Bennett at age six, and continuing with twins Dylan and Cole Sprouse at eleven, and finally with a whole selection of star actors – among them: Peter Fonda, Winona Ryder and Marilyn Mason.
The Heart Is Deceitful Above All Things is a coming of age drama about a young boy who desperately tries to make the best out of everything that happens to him. It's a highly recommended movie – if you think your can bear it…
http://www.youtube.com/watch?v=CKu3wM2V4QU
IMDB ( link) Fan site (link) DVD review (link)
—————————————————————————————————–
On a side note: the movie is said to be based on the book of the same name by J.T. LeRoy – a teen-aged young man who wrote books about his disturbing childhood.  It turns out, however, that J.T. Leroy never actually existed as reported by Film Threat and Saloon butwas,  rather, a 40 year old woman. NY mag has an interesting 9 page article about the character of J.T. Leroy for those who are interested in the story.