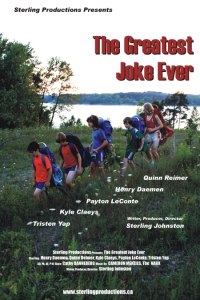 In a year not so long ago… In a time before the Internet, CDs, VHS, Videogames and all this other technical stuff… Children without parental controls were often forced to amuse themselves…
The above quote is from the opening of the film, The Greatest Joke Ever, produced by Sterling Productions.  The opening sentence itself describes what I consider to be the biggest virtue of the film – a sense of nostalgia of the days when one hung out with friends, pulled pranks on one another, and lived through many adventures. As one could expect, the cast of this film is made up of enthusiastic, yet non-professional actors. Whether you'll appreciate their performances is quite subjective —  probably "Yes" if you appreciate independent features, but probably "No" if you are used to seeing only mainstream releases.
This movie lacks the pace to be really enjoyable, though the plot has some potential.  A group of boys decide to play a practical joke on the new kid in their neighborhood by inviting him on a trip to a lake in the mountains where they intend to swim and  hide his clothes.  I have seen a Scandinavian film with a similar plot-line.  But, of course, comparing that film to The Greatest Joke Ever – one filmed in Canada and one in Norway – is  not really appropriate).
The film features a good soundtrack by a band called The Narx (never heard of them, but their music is cool) – yet there are some problems with the sound as, at times, the dialogue is hardly audible. The DVD features trailers of all films by Sterling Productions and the CD has some nice artwork on it.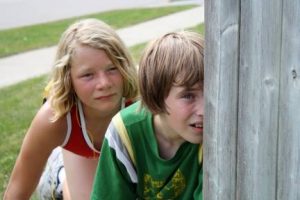 If you have read the previous three reviews of the films released by this independent Canadian production house:  Emmet, Swim Zack Swim and Clear Cut or, better yet, if you have seen any of the films, you would know what to expect from The Greatest Joke Ever. It is unlikely to WOW you, yet you may like a particular scene (I personally liked the BMX scenes at the beginning of the film).
Sterling Productions uses 100% of the income generated from sales and donations towards production costs, which enables them to support young actors and release new films in the future.  In light of the latest trends in technology and on-demand video streaming, I wonder if it is a good idea for Sterling Productions to make its films available through a platform such as Amazon or Netflix. A cheap pay per view model might bring some additional exposure.
Official studio website / store