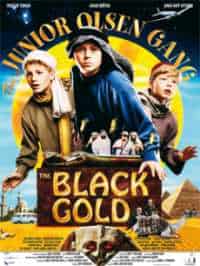 The Junior Olsen Gang and the Black Gold – the perfect family film, an hour and a half  filled with fun and enjoyable adventure from Norway.
Egon Olsen (Oskar Øiestad) always makes up plans and games that get him and his gang into trouble. After reading in the local newspaper about a company that plans to look for oil in the North Sea, Egon decides that this is an excellent chance to invest money into stocks and become millionaires once the oil is discovered. When they finally manage to collect the money to purchase a share in the company, things get complicated.
At first, it's announced that there is no oil in the North Sea, but Egon and his friends discover that the samples were falsified by the company's engineer for the benefit of a wealthy Arabian sheik. The boys decide that the Norwegian foreign ministry should know that they are being cheated, but the sheik finds out about their plans and, to prevent them from talking, kidnaps their friend (a young girl) and brings her to Egypt.  Egon and his friends decide to find a way to get to Egypt and save their friend …

Although the story does not shine with originality (a group of children defeating evil minded people), the film features a dynamic narrative and a group of adventures and laughs that make it enjoyable for people of all ages. Like most Scandinavian films aimed at children, the cinematography features vivid, bright colors that enhance its mood. Some of the scenes in the film are shot on location in Egypt and, although the county and its people are represented quite stereo-typically (the pyramids, kebab, camels, deserts and belly dancers),  this only enhances the film's visuals and makes the story more appealing to the young viewer.

The three young actors playing in the roles of  the members of the Olsen band –  Jonas Hoff Oftebro (12), Oskar Øiestad (13) and Fridtjof Tangen (13) are truely adorable youngsters (the Norwegian film casting agencies seem to have an abundance of cute young actors to choose from) and put on a wonderful performance.
Personally, I enjoyed the film. Granted some scenes are a bit naive but, then again, the intended audience is young kids and they are likely to love all the funny and changeling adventures experienced by Egon Oslen and his gang.  The film is part of a series based on the Danish Olsen Gang films (a Norwegian version exists as well). The movies about the Junior Olsen gang are what the The Adventures of Young Indiana Jones are to the original Indiana Jones films.
Film title: Olsenbanden jr. og det sorte gullet
Also known as: The Junior Olsen Gang and the Black Gold
Release year: 2009
Director: Arne Lindtner Næss
Cast: Oskar Øiestad, Jonas Hoff Oftebro, Fridtjof Tangen, Petter Westlund, Lina Sørlie Strand and others