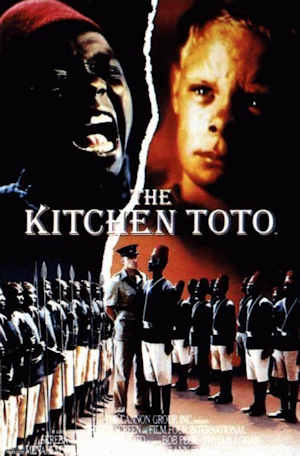 Written and directed by Harry Hook, Kitchen Toto is a 1987 drama which focuses on particularly turbulent times during the British colonial rule of Kenya and the Kikuyu tribe uprising that sparked the aspirations of independence for the African nation. The film's covert art and promotional materials are likely to convince potential viewers that the film would feature strong Coming-of-Age motifs. But, alas, even if such intentions were suggested, they were never fully realized.
The storytelling style in Kitchen Toto is likely to appeal to audiences looking for a more fact based, linear narrative. Despite the fact that one gets a pretty good idea of the situation in Kenya during the 1950 Kikuyu uprising, the character development in the film is only superficial.  This leaves the viewer in the role of passive observer detached from the character's turmoil and life choice.
Those same detachments unambiguously affects the performance of the main protagonist – 12-year-old Mwangi (Edwin Mahinda). A child suddenly torn from his family — expected to make adult-like decisions and judgements – is a character that should have grabbed the attention and hearts of the viewer, making one genuinely care. But that chance for a poignant rite-of-passage development gets lost in the mediocre script.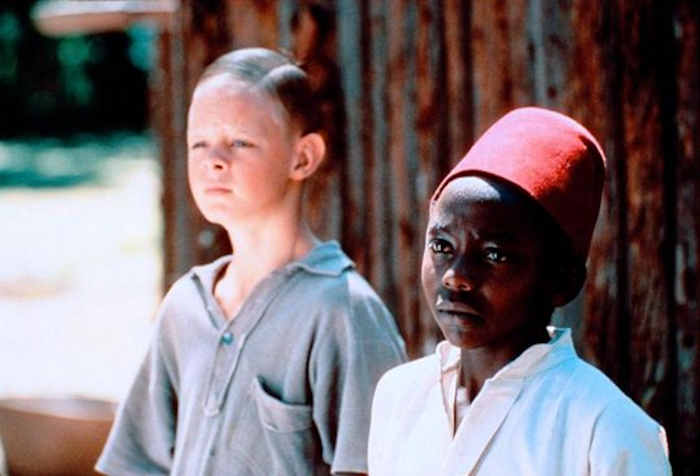 The fact that the film is from 1987 doesn't justify the stiffness of the actors, despite the fact that similar formal performances are to be found in many British movies from that period. If only the filmmakers had established a more dramatic story development – such as a better emphasis on the relationship between Mwangi and Edward (Ronald Pirie), who is the police chief's son, the story could have felt much more poignant. Even so, it probably wouldn't have reached the poignancy level of Mark Herman's The Boy in the Striped Pajamas, which is a great example of how to intrigue and captivate the audience while recalling an important historical event.
On the positive side, the film score does highlight the atmosphere of the film, at least when considering its faux-documentary stylistics. And, while the film is unlikely to move people, one is likely to acquire a new knowledge of that particular period of British history. I will leave it to the reader to decide if that's enough to justify 96 minutes of one's time.
John E. Keane: music from The Kitchen Toto