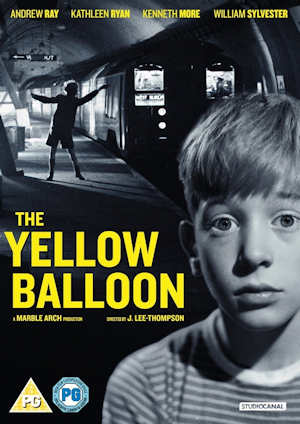 The 1953 British Coming-of-Age thriller, The Yellow Balloon, tells the story of Frankie, a boy who is coerced into aiding a local criminal. Intriguingly enough, one can see how the film has inspired (even if vaguely) other similar movies released at a much later date, such as the 1993 masterpiece starring Brad Renfo, The Client.
There is something unique in the black-and-white stylistic that allows for a better appreciation of the lighting (shadows have the potential to enhance any scene or face) and the overall arrangements of the scenes in the film. Somehow faces appears more expressive, although this may be attributed to the talent of Andrew Ray, whose portrayal of the confused and scared Frankie in The Yellow Balloon makes one sympathize with and care for the young protagonist. It is said that "eyes are the mirror of the soul" and this is especially true for the wide-eyed Andrew Ray. One can literally read his feelings in his eyes.
While Andrew Ray's steady character portrayal of Frankie is present in most of the film's scenes, it should be noted that not all members of the cast are equally convincing. Kathleen Ryan and Kenneth More, who portray Frankie's parents, overacted a bit – delivering more of a stage style of acting, which is non typical for classic films. Such as style makes them appear dated in the eyes of today's audiences.
While it would be overkill to call the film moving, it has enough plot twists, and a tint of suspense, to keep modern audiences engaged.
http://www.imdb.com/title/tt0046561/combined