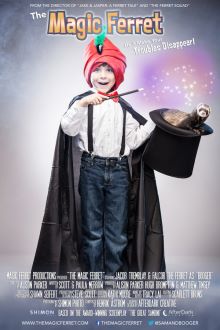 In 2011, a review of Alison Parker's short film Jake & Jasper: A Ferret Tale was published on this site. Recently I became aware that Director Parker has launched a fundraising campaign with the goal of financing yet another short film starring the enthusiastic and sympathetic young actor Jacob Tremblay (The Smurfs 2) and …..you guessed it: a ferret.
The film synopsis as written on the Indiegogo website:
"Sam is a six-year-old orphan with a pet ferret named Booger. Sam is as cute as a button, but he just can't seem to find a family who wants him. When the newest prospective parents come to visit, Sam decides to impress them with a few magic tricks. He becomes "The Great Sambini" with Booger as his assistant. When his most amazing trick flops, Sam is deflated but not defeated, and with Booger's help he conjures up a different kind of magic."
A family friendly film filled with hope for a better future – that is my take away from the synopsis of The Magic Ferret. The production team has put up a creative clip about the upcoming film, featuring its two young stars, that I invite you to watch: 
The Magic Ferret IndieGoGo Fundraising Pitch Video
Director Parker's goal is to raise $10,000 by June 22, 2013. At the time of the writing of this article, $6510 has been donated. As TheSkyKid.com's purpose is to promote young talent in music and the arts, I would like to express our support for the film and urge you to visit the film project page at Indiegogo and discover more about the film.