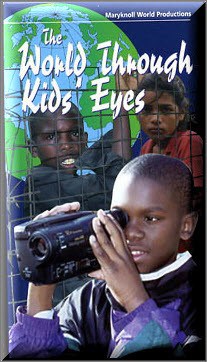 Adolescence is, by all means, a product of modernity.[1] Back in the early 1800's, a 16-year-old boy would be looked upon as if he was grown up — with all the benefits, limitations and responsibilities that arise from adulthood. Nowadays, thanks to industrialization and the increasingly complex division of labor, things have changed. Various legislatures began implementing laws ensuring that the kids would enjoy their most fundamental right – to be themselves, to be kids and to be protected. Yet, that world does not exist in places beyond our own city or country or even continent. All around the world, children often find themselves at risk.
The documentary The World Through Kids' Eyes consists of six short programs that provide an intimate and unique insight into the reality of  children who do not have everything provided for them and who have to struggle to survive. The documentary was released by Maryknoll World Productions and uses an intriguing approach.  Video cameras were given to kids at risk around the world (Philippines, Peru, Brazil, USA, India and South Africa) and the kids were asked to present the world – their words and dreams through their eyes. Each story reflects one of the articles of the United Nations Convention on the Rights of the Child and they are briefly mentioned within the review.
The World Through Kids' Eyes can be seen as a valuable sociological and historical lesson which allows us to have a glimpse of worlds, realities, experiences — which are quite atypical of what most people are used to seeing in their mundane lives.  The stories that the children relate are quite disturbing.
For example, in Peru children start helping around the family as soon as they become physically able to do so.  Some of them go to school and also have to go to work. One of the personages in the documentary started to work when he was 10-years-old. From 5:00 am to 11:30 am, he works and then spends the rest of his days at school. Others said that often the teachers did not understand or take into consideration children who must work as well as being schooled.  In an interview a teacher from Peru said :
"You young people need to connect to your identity as youth. But you have already matured beyond that. You identify yourself with an adult because you work. You have responsibilities. But when you come to school, you become kids again who study, but it's no longer the same. You don't fit in."
While there's some truth in his words, it's sad that someone out there is not doing enough to protect the children and give them their basic right as outlined in Articles 27, 28, 32, 34 and 40 from the UN Convention on the Rights of the Child.
This documentary must be screened in every sociology class around the world so that the kids can appreciate what their parents give them — the chance  to be kids,  not  having to work and study or be treated as an adults. The World Through Kids' Eyes is adocumentary that raises awareness and, for once, we shall try to change things and make the world a better place for all of us.

Troye Sivan – For Them
httpv://www.youtube.com/watch?v=xaxukzu_n7A
We would like to express our gratitude to CVMC.net who provided the DVD of the documentary for review. Without their support this review would not have been possible.
Another realistic documentary reviewed at the SkyKid.com  which focuses on the homeless childten in Romania is : Children Underground
Make a change :

1. Demos , John and Virdinia "Adolecence in historical perspective".
Journal of Marriage and family 31 ( 1969 )632-28