http://youtu.be/ooSfe00n8Tc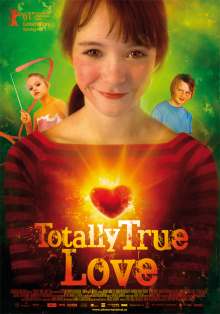 First love – this frequently occurring theme of Coming-of-Age movies  – is the essence of the 2011 Norwegian film Totally True Love (original title:  Jørgen + Anne = sant). Unlike most films of the genre, which predominantly focus on the boy's experiences and worries, in Totally True Love the main protagonist is Anne Lunde, a ten-year-old girl with a unique take on the world. "I never understood why girls had to be princesses and boys Vikings ",  says Anne as she narrates her own story (which is always the best approach in movies about feelings and discoveries of youth).
Anne does not get why everyone around her is talking about love. But she is not too worried about thinking that one can't fall in love at her age. She is just like Pippi Longstocking — tomboyish, rebellious, and full of energy, and she could care less about boring stuff like love and feelings…
…that is until one day when everything changes. Jørgen Ruge, the most handsome boy she has ever seen, moves into her neighborhood, resulting in a new kind of feelings, and Anne constantly daydreams. It's all too confusing for her who, unlike the more " experienced " girls in her class,  never has had a boyfriend. And as if this were not enough — the class's most popular girl, Elle, is also interested in Jørgen.
Scandinavian film directors, particularly Norwegian ones such as Anne Sewitsky, who worked on Totally True Love, have a unique approach to films about childhood. Their emphasis on sincerity almost always guarantees that the audience will quickly identify with the young characters in a  film as it almost always evokes a sentimental association with their childhoods.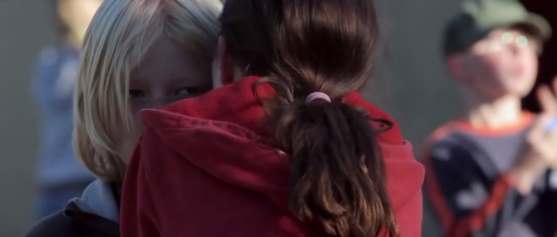 Secret Message?
Thanks to the colorful cinematography (also featuring frequent closeups and dynamic camera movements) and lively dialogue (two traits of the Scandinavian cinema),  Anne Sewitsky's film feels fresh, lively, and entertaining. The story of Anne and her first crush has something for everyone: challenges, drama, intrigue, romance, joy, and sorrow  — all of that plus a unique insight into what a ten-year-old girl can do in the name of love.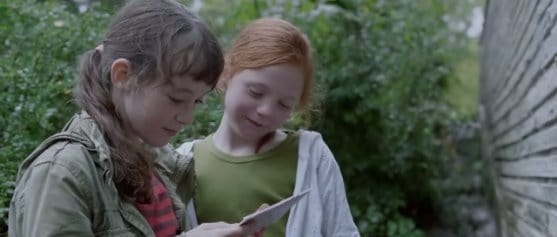 Friendship: Anne and Beate
The young cast of  Totally True Love is exceptional – especially the charming Maria Annette Tanderød Berglyd and Aurora Bach Rodal in the roles of Anne and her best friend Beate. So expressive were their faces, so credible their acting that, after watching the film,  I feel I know what it is like to be a young girl in love (which, being a boy, is an experience I've never had). To me, that's evidence of the talent of the young actresses and the inspired guidance of Anne Sewitsky. She has crafted a magical film despite no prior experience in directing children.
In romance, some say girls should never take the initiative, and some say it's impossible for someone that young to have such feelings. This film proves both of those concepts wrong.
Have you ever been in love? If you nod your head, you are sure to enjoy Totally True Love.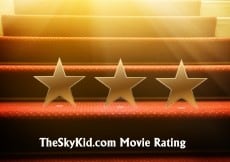 Film title: Totally True Love
Also known as: Jorgen + Anne = sant
Release year: 2011 — Cinenord Spillefilm
Director: Anne Sewitsky
Cast: Maria Annette Tanderod Berglyd, Otto Garli, Aurora Bach Rodal,Vilde FredriksenVerlo, Kristin Langsrud, Peter Holene and others