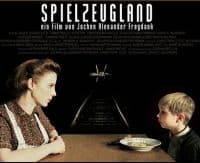 Nazi Germany and a young Jewish boy…  shades of Mark Herman's 2008 masterpiece The Boy in the Striped Pajamas. Such a combination can only bring gloomy expectations for the outcome of any story about them. And, indeed, the German 2009 Academy Award Winner for the Best Live Action Short Film Toyland, which was directed by Jochen Alexander Freydank, manages to bring a lump to the viewer's throat.
Toyland's narrative shares a lot of similarities with The Boy in the Striped Pajamas, such as the fact that the friendship between a German and a Jewish boy is an essential element of the plot. Yet the director manages to introduce his own twist to the story – just as Keegan Wilcox did in his 2010 short film Porcelain Unicorn.
The story in Toyland emphasizes a child's innocence and the lies that sometimes are needed if it is to be preserved. But the lies never-the-less leave a feeling of guilt in the person that had to spell them out.  Director Freydank uses juxtaposition to move the story forward while concentrating on the difference in mindsets between children and adults in the turbulent times of World War II. The emotional finale combines the words of childhood and grown-ups in a logical and poignant manner.
Films such as Toyland prove that despite a prior knowledge of events of a particular story one cannot remain untouched by a well-told poignant story.
Watch the entire short-film below: