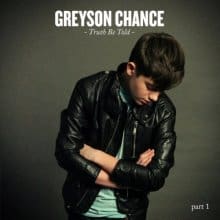 After the success of Hold On 'Til the Night, INTERSCOPE RECORDS has released another Greyson Chance album, Truth Be Told Part I – this one with only five songs. It is, of course, difficult to follow-up an album like Hold On 'Til the Night with its many hit songs.  But, in a style truly his own, these new tunes on Truth Be Told – Part I reveal a light and fancy-free Greyson, perfectly at ease in singing about his, or someone's, infatuations and crushes.
A Journey of Feelings
These songs are light hearted and tender, romantic and affectionate, and aim to capture a liaison in musical lyrics. Moreover, they open small imaginative scenes for listeners and invite them to step inside. It's a journey of feelings, Sunshine + City Lights, as two young people stroll through the city.  They're not really going anywhere, but with a tenuous bond, with the possibility of creating a lasting tie–maybe!  "Now we're stuck in midtown" "Do you want me to stay"?
Greyson Chance – Sunshine + City Lights
There is a sweet, delicate affection in "do you want me to go now?, cause baby i wanna stay!" and the simplicity of a single acoustic guitar accompaniment highlights Greyson's voice superbly. This song is also about trusting someone to lead you, letting go, because "sunshine and city lights will guide you home." Greyson's voice is acoustically interesting, toggling between a teen falsetto and a tenor range voice that just has traces of light grain sandpaper in it.
Wildfire of Teenage Love
In You Might Be The One, there's a wildfire of teenage love kindling, but also questioning its own possibility to endure. In fact there is a scrutiny, a reality check between people saying it's crazy and stupid and the artist's feelings. I like the quick passages here — very inventive and breaking out of the song tempo "When the lightning strikes and the rain comes down, I'll be alright, I'll dance in your…"
"Feel the fire burn in my soul, that's how i know…" defines this tense attraction but also reminds us that fires can burn down.  And so the questioning "MIGHT BE" reveals a person who is careful where brushfires lead him. Once again, instrumentally there's not much to distract us from Greyson's self-searching, narrative voice.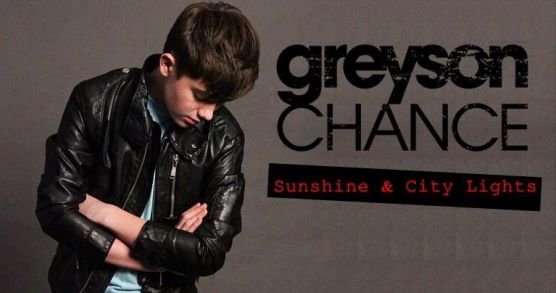 The mellow guitar licks in Leila remind me of early Cat Stevens songs; in fact, so does the entire song. It's the same infatuation theme, but this time there is a decisive "you're the one for me" – almost a resignation to the lure of being close to her. "This feels a lot like love" and "people say its just a crush" defines the mood, even though people say they'll never stay together, even though there is hesitation in "maybe this is wrong."
Chance has an introspective ability to share this private tender affection, whether or not it's truly his own we can't say for sure. But I believe it is. Still, it must be said that in a small way this is a negative point to the album, at least for me, to be immersed in luke warm, bubbly teen age bathwater without an occasional cold shower. On the other hand, Greyson (and most of his fans) is at the age when not much else really matters, so his musical emotional journey is a kind of public attest to young love, in all its vulnerability and momentary importance.
A Montage of Greyson's Existence
California Skies again invites us into a montage of Greysons existence. A coffee shop is the romantic setting. "They were playing Hey Jude and we both sang along" and "I hated that my flight was taking off."  This reveals the show biz responsibility he already has, which also restricts his bonding occasions. Here, there is a gentle acceptance and a dreamy yearning for the freedom of another life. There is a brilliant moment in the song after the words "and kiss your lips under the stars".  The music stops for a few seconds as though to let us savour the glory of that moment.  Well, I certainly saw "kiss and stars" there.
Take My Heart stays true to the romantic theme of the album, with a crooning Greyson offering up his love.
Since the original album was released, a remix of Sunshine + City Lights ( Sunshine & City Lights – Jeff Bhasker vs Tyler Johnson Remix) was done.  In that version of the song it becomes a pounding rave beat song that sounds ok, but it loses the innocence and magic of the original version. Audbile in this tune are some interesting deeper tones in Greyson's voice.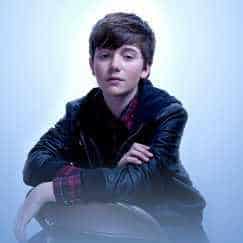 So there is nothing pretentious here.  The album is pretty consistent with the young Greyson we've come to know — fun loving, inventive and eagerly infatuated. I believe these are good songs for him at his age and it's an album with small gems. He has already produced some very bright diamonds after all. This album has an enchanting lightness and original touch, so I want to also compliment his writing team for letting this show and not filtering the light source.
rjmendera for THESKYKID