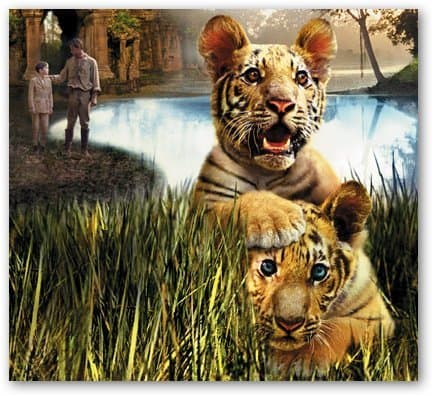 The main characters of the movie – two little tigers
Do you love animals ? And what about tigers ?Are you fan of Freddie Highmore ? If you answer yes to any of these questions you are going to really love the movie Two Brothers. I see it as a coming of age movie as well – only this time we have several characters who came of age – two little tigers , a boy who cared about one of them and Guy Pearce who plays the role of an adventurous hunter and writer .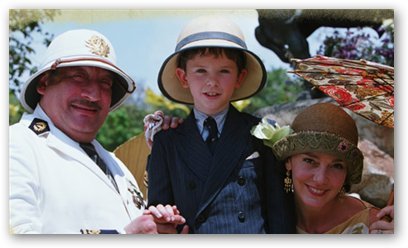 Raul ( Freddie Highmore ) and his parents
I picked the DVD in a video store – while looking for some new titles for my collection. Did not notice it at first until the friend I was with pointed the actor on the cover and asked me if I knew who he was. Naturally one glimpse was enough to recognize Freddie Highmore – which on it self meant that I had to get the movie. And I am glad that I did that – despite of the rareness of the scenes in which Freddie appeared . As my friend said to me back in that store " His role is not major – the major one is of the two baby tigers – but it was this movie that made him known to the world"
The little tigers in the movie are adorable. They love to play in the river, bathe in the sun and get into trouble- much like their human equivalents. The movies directors worked with the best animal trainers – and this resulted in one of the greatest movies about animals ever to be made. The tigers – Kumal and Singha – were able to convey a full range of feelings: love, fear, sadness, loneliness, joy and even angerl.Add to that a breathtaking scenery and absolutely beautiful scenes and you will get an idea of what to expect .
The bottom line is that trough the movie does not provide any surprising twists in its plot – its well worth seeing and it goes on to my favorite list straight away. Some of the scenes are really touching and while watching the movie and after its final credits I felt sorry that those animals are almost gone – thanks to the actions of the Humans , who destroy their natural habitat and hunt them for pleasure .
http://youtu.be/GNEt7O7qAPg