"I'm just a kid with a guitar in my hands,
but I know something that some can't understand…"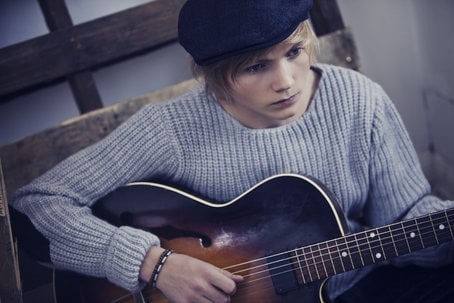 That familiar feeling …. you hear a song and the next thing you know it's stuck in your head.  In the next few days you lose count of the number of times you have listened to that song over and over again. The singer releases a new song.  Maybe you were thinking that he could not do better than his last release, but he does and now you have a new song to adore.
Meet 17-year-old Ulrik Munther from Sweden – gifted guitarist, songwriter and singer. When I first heard his original song – Boys Don't Cry – I was blown away.  Finally! A song with a meaning that I really enjoyed.  It's been a while since I've heard such a melodic song – especially nowadays when so many young singers lean toward the much hyped R&B style, with beats and lyrics one can hardly tell apart (they  all go: "I love her, she doesn't love me.  Love me, Love me, Love me".  Or "Let's party "…etc ).
Now listen to this:
Impressed?
If so, it's not just you.   Ulrik was spotted on YouTube and signed by Universal Music Sweeden.   Boys Don't Cry was released as a single in January 2011  and an album is in the works.  In the meantime, Ulrik kept releasing hit after hit,  covering Lady Gaga's Born this Way (it's astonishing how many young singers find inspiration in Lady Gaga's music) and his own original composition – a powerful acoustic ballad titled Life.
Maybe you've noticed the similarities: Ulrik seems to be best performing ballads filled with emotion and meaning. Yet, recently, he released Sticks And Stones, which is a more upbeat song.  It's part of the promo for his first album, which is now available for pre-order .
Admittedly, Ulrik's music reminds me of Hanson – and it's no secret that I am a huge fan of that band.  Ulrik's music sounds real and sincere and, to me, that makes all the difference in the world.  Ulrik is not only a wonderful vocalist but every video he creates is not only professional in appearance but is truly captivating.  Take my word – this boy is going to go far!
Find out more about  Ulrik Munther by visiting his official web site