"I don't play videogames.  I play outside."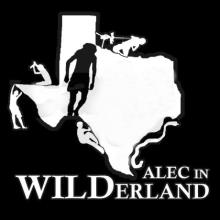 Reality shows are nothing new. Most of them don't set admirable goals for themselves and, while some are entertaining, finding real value in them is a tough task. But then I stumbled upon Alec in WILDerland – an online web-series "aimed at teaching kids of all ages how to get outside, explore, and survive."
So what makes Alec in WILDerland different from other popular reality programs such as Survivor or the Canadian reality show Survive This?
Unlike those shows, Alec in WILDerland has a mission: to get kids (and not just kids) to unplug, to shut down their computers, tablets and video consoles and head outside – where the real adventures are!
As a kid of the 90's myself, I can not help but wonder if today's youth are fully experiencing and enjoying their childhoods. The technology advances that we have witnessed in the past ten years or so has brought a lot of benefits to people – allowing children to socialize with other children from distant countries (that was also possible before the Internet via snail mail exchanges) and giving them a chance to dig into a world of information and knowledge. But the technology, as beneficial as it can seem, has taken its toll on the adventurous spirit of childhood, its trials and tribulations and its very, very distinct Coming -of-Age experiences.  But all is not lost.  Shows such Alec in WILDerland can entertain and inspire – to unplug and head outside!

Alec in WILDerland
The show itself is hosted by a cheeky and outgoing boy – Alec . A twelve-year-old kid, Alec describes himself as "part actor, part model, and all about exploring and adventure". Supported by his parents and educators (his mother is a teacher as well), he experiences adventures in the wilderness that are entertaining to watch and filled with survival tips that may come in handy someday and/or give you some great game ideas. Alec's show is shot on location in Texas, USA. The first season consisted of four episodes – three of which are already available in stunning HD at his YouTube channel. Thanks to the many people who supported Alec and his show by donating to his pledge on IndieGogo, the second season is now underway.
Because of the age of its host, Alec in WILDerland is perfectly suitable for children of all ages. The camera is frequently hand held by Alec himself or set on the most unusual places which results in an up-beat and fun video. Not all of Alec's ideas go as planned, so you are guaranteed to have a good laugh at times. You can find out more about Alec by visiting his Thumblr blog, Twitter and YouTube channel.
And while you're checking out  his videos, I'm heading out…to the adventures!
Unplug and go Exploring. The WILDerland Campaign.