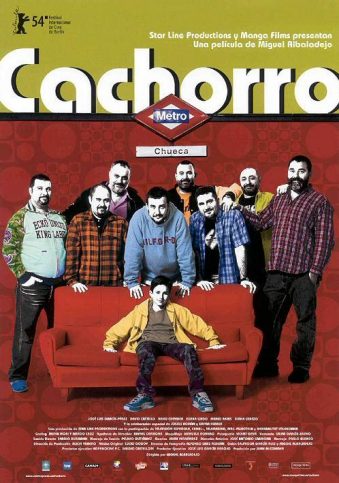 Cachorro is an amazing Spanish movie . I loved it ! Unfortunately you will have to be open minded (at least one bit)- or will end up not liking it ( a possibility that is). If you have seen Mala Educacion of Almodovar and any of similar European movies you won`t be shocked by the scenes in Cachorro – but would rather appreciate the directing talent of Miguel Albaladejo . (soon I am going to watch and review another movie directed by him – Volando Voy).
Pedro – a gay dentist enjoys his bachelor ways of life: living alone in a downtown Madrid`s apartment and having active sexual live spiced with drugs and wild parties. His sister is a hippie and is planning a trip to India – her 9 years old son Bernardo has to stay with someone for the duration of that trip and this someone happens to be Pedro. At first, they both did not seem very happy with this arrangement – but as time passes they get to know each other better.
An incident prolongs the stay of the mother – she is arrested in India for drug trafficking, changing the two-week vacation into a time indefinite absence. Pedro has to accept the responsibility of caring for Bernardo – which could mean changing his life a bit – being a father figure is not always easy. The young boy ( played brilliantly by David Castillo ) however is very open-minded and wise – which is probably resulted from him growing up in a rather liberal environment.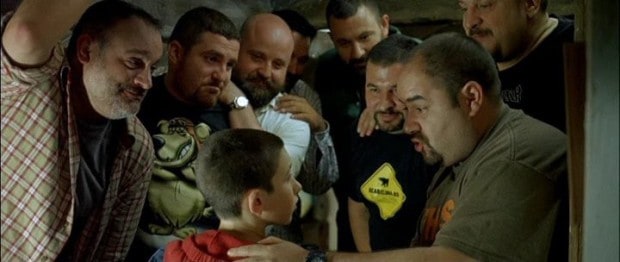 Up to this moment – the movie may remind you of Big Daddy or About a Boy – but it only gets better. The boys grandmother Doña Teresa enters the scene – apparently not happy with the new arrangements she is trying to get custody of Bernardo – using even blackmailing to achieve that. The story is full of twists and indeed its ending is quite surprising and open at the same time which will allow you to select the way to conclude the story.
The movie can be categorized as drama and comedy at the same time – some scenes heartbreaking , other really entertaining . The movie addresses several issues ,amongst them :
"1) Is it possible to balance an active/casual sex life with bringing up a child.
2) What makes someone a good parent/guardian?
3) Adoption of children by GLBT individuals or couples
4) The reinvention of what constiutes "family"
5) An introduction to "Bear" culture"
The acting of the actors is remarkable and the soundtrack is amazing. Cachorro is one of the best films I have seen and I highly recommend that you go ahead and watch it.
"Cachorro" draws on many texts … (including "The Jungle Book", "Peter Pan", "Snow White and the Seven Dwarves", it has a man-all-of-a-sudden-finds-himself-having-to-look-after-a-child story that has echoes of "Three men and a Baby" and "Big Daddy"). {

l

}