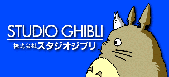 The Japanese animation house Studio Ghibli is often rather tritely passed off as 'the Disney of Japan'. Mascot character Totoro is 'the Mickey Mouse of Japanese Animation', and main director Hayao Miyazaki is merely 'a Japanese Walt Disney'. The association is simple: Ghibli makes traditionally animated movies and, when many people think of traditionally animated movies, they think of Disney.
As flattering as the association is meant to be, it's thankfully not true.  The sources of inspiration for Ghibli's films include fairy tales and popular children's tales, but the results are illustrative in how they contrast.  The Little Mermaid is as typically Disney-fied as you'd expect (catchy songs and an ending where 'the princess gets her prince').  Ponyo's values are entirely different.  Miyazaki seems more concerned about an old folk's home than the princess' fate.
Studio Ghibli Promo Trailer
Ghibli also takes stories from more mature sources, including young adult fiction and autobiographical wartime novels. Among the eighteen Studio Ghibli films released to date, a substantial number of them feature a coming of age theme. Disney has tended to stick to releasing (and publicising) those releases which fall into their brand of whimsy, meaning that Ghibli's coming of age titles sometimes seem a little more obscure than they deserve to be.
Here are four of the best:
Kiki's Delivery Service [1989]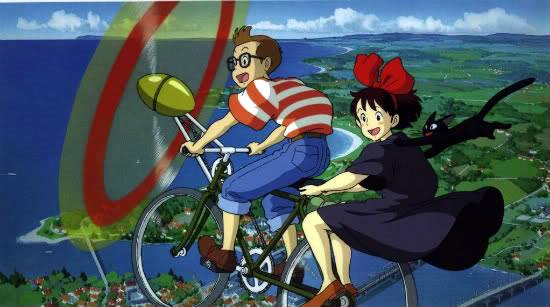 Kiki seems, at first, a typical fantasy tale that fits comfortably into Disney-style animation, vibrant disarmingly sweet with a happy-go-lucky protagonist. Accordingly, it was one of the first films Disney dubbed (with Kirsten Dunst in the title role and Phil Hartman as her cat).  But the magical theme hides an emotional core that is actually a lot more down to earth.  Kiki is a 13-year-old witch, an age when all witches apparently fly away from home to live a year in the real-world and learn how they can use their skills to benefit themselves and society. Kiki settles on operating a flying courier service in a beautiful seaside town but, when her efforts go unappreciated, she starts to lose her magic.
Wonderfully, even a witch's power is shown to derive from the mundane needs we have to feel appreciated, to matter and feel like we're achieving something new. Like many of Ghibli's films, the crisis is explained by a positive female role-model: Kiki befriends Ursula, a young artist who recognises that Kiki's problem is just 'artist's block', setting the scene for Kiki to conquer her depression in the final act.
Only Yesterday [1991]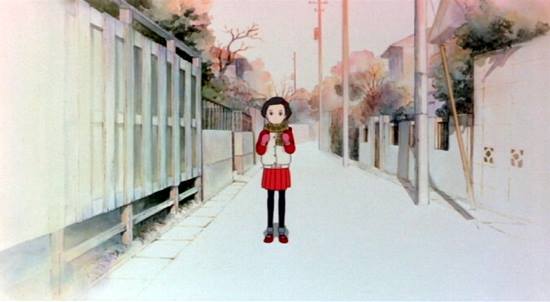 The vast majority of Studio Ghibli's films feature female protagonists. But even among such a wide range of female voices, Only Yesterday stands out by being specifically about a woman's experiences. Perhaps that's why Disney steadfastly refuses to release a version in North America (subtitled versions in Australia and the United Kingdom fill the void). It is rumoured that scenes in which young girls talk (around) the subject of menstruation are behind Disney's attitude, but then they've never seemed especially interested in slice of life film-making from a feminine perspective.
Only Yesterday is the creation of Ghibli's other master, Isao Takahata. And, while Only Yesterday doesn't have quite the same impact as his harrowing Grave of the Fireflies, it's a beautiful film about affectionate nostalgia and regret in which a young woman finds herself drifting away from the career and the city that her life has steered her towards. There's more than a hint of Taeko's story being a metaphor for modern Japan. But even with the references to old children's shows and other Japanese minutiae, the themes are very easy to appreciate as an English speaker.
Ocean Waves [1993]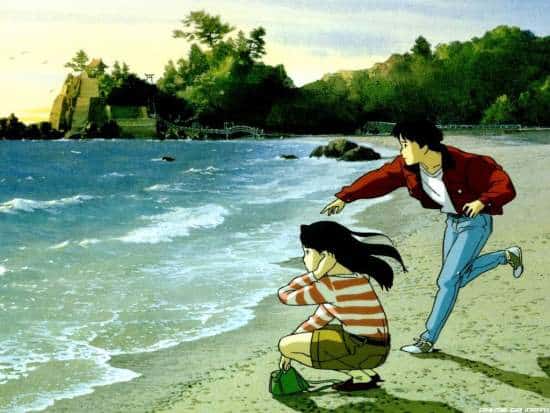 Ocean Waves is another film unreleased in North America, but it's rather more obscure even in its native Japan: made as a practice project for young talent and to be aired on television. You can pick up subtitled DVDs from the UK and Australia.
Despite its obscurity,  Ocean Waves is interesting as drama with a coming of age theme.  It stands out in the Ghibli canon by featuring a male central character: Taku Morisaki. But the film is as much about the love triangle that forms between Taku, his best friend Yutaka and new girl Rikako Muto. The subjects dealt with are not uncommon for drama anime: a school romance against the backdrop of final year exams.
But the film handles the uncertainty of being a teenager with a universal skill and also realistically portrays what it's like to be the new kid in a place you'd rather not be in, as well as modelling how relationships evolve, disintegrate and reform stronger than ever in adolescence. Still, it may be a little ponderous for some to enjoy!
Whisper of the Heart [1995]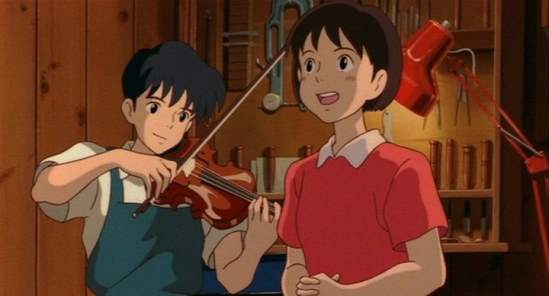 With Whisper of the Heart we're back in high-school once more.  Shizuku Tsukishima is a budding songwriter and novelist who is inspired by a strange antiques shop she discovers whilst out walking one day. It turns out that the antiques shop belongs to the grandpa of one Seiji Amasawa, a boy whose name appears in every book she checks out of the library. Seiji works his way into Shizuku's affections, despite having repeatedly offended her in the past.
Unusually driven for a boy his age, Seiji's desire to be a violin maker inspires Shizuku to concentrate on writing a fantasy story, even if it means sacrificing grades at school. In many ways, both characters aren't typical 14-year-olds.  But, then, that seems to be the underlying message, that perhaps school curriculums aren't always one-size-fits-all solutions.  It also seems to suggest that our journeys from childhood to adulthood are wildly different as well. Love, too, is shown to be romantic and fairy-tale like, but only within the confines of a very urban, quite mundane existence.  A beautiful feel-good film, and probably the one on this list that you should watch above all the others.
Guest article by : Steph Wood