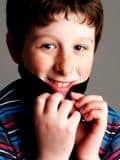 The 2012 short film Dawid and Dominik tells the story of the young Polish boy, Dawid, and his quest of finding the perfect woman for his dad.  The familiar character types: a skilled Eastern European dad in the Western world (the story is set in England where Dawid and Dominik move after the death of Dawid's mother) and the young boy striving to live up to the image and goals his dad has set for him.  But I think these clichéd character types actually enhance the story's humorous theme.
Barnaby Picton as Dawid and Victor Ptak as Dominic do a great job portraying the various traits of their characters. Yet, while the first person narrative by Dawid with which the movie opens grabs one attention,  the later dialogue between him and his dad feels a bit stilted.  Other than that, the  picture is of high quality (a minimum amount of camera movements too) and sound is professionally recorded. The best part of the film, by far, is the hilarious interviews that Dawid conducts with wannabe spouses for his dad.
To summarize: a fun little short that I believe you will enjoy.
David and Dominic  (Full Movie)