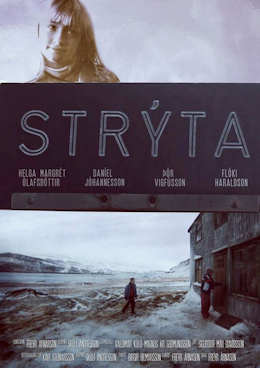 Discovering a short film "worth writing home about" can be a challenging task. For me, such a film is to be held to the same standards as a full feature movie would. It should feature an engaging and original narrative, good acting and high production values (sound, lighting, camera work and editing). One may watch hundreds of such films to discover a masterpiece, but when he/she does — it's worth it.
Strýta (No Country for the Young Ones – USA premiere title) is a 2012 short film from Iceland. It's one of those shorts whose story stays with you long after its final credits roll.
Directed by Freyr Árnason, Strýta tells the story of two mischievous boys (Daníel Óskar Jóhannesson and Flóki Haraldsson) who steal a car and head off on a trip to an abandoned house in the snowy countryside. Rumour has it that a gun is hidden somewhere in the house, and the boys are eager to find it.
https://
The film's opening shot, showing the two kids "jamming" to Bob Marley's legendary vibes, immediately draws one's attention — thanks to the stark contrast between the score and the snow-covered Icelandic landscape. Having recently seen Jon Watts's full feature movie, Cop Car, I could not help wondering if the American director had found and used the same approach as in the Icelandic short. The musical score of Strýta intensifies the feeling of suspense in such an effective manner that, as one watches the film, various possible outcomes come to mind (I was thinking vampires possibly because of the association with the Swedish film, Let the Right One In). Yet, when the ending comes, the surprise and realization of just what the film is about are imprinted onto the viewer's mind.
This is a beautifully shot film with a deep and meaningful story.  It's an indisputable "must-see"! Strýta gets our highest recommendation.