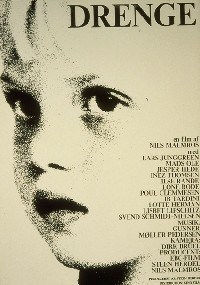 Danish movies can sometimes leave you really puzzled and that's the case with the 1977 film by Director Nils Malmros, Drenge (Boys).
The film opened with a scene of kids playing.  Five-year-old Ole (Mads Ole Erhardsen) runs along with the rest of the group — wanting to be included in all the fun they are having. During a game of hide and seek, he wanders outside of the garden playground in the direction of the nearby pound. At that point, one may suspect that something tragic or sudden will occur, but that is not the case.  Soon after, the viewer witnesses Ole and his distant cousin (roughly eight years old and who is visiting the family) playing still more childhood games. The games the boys play seem a little naughty, innocent yet with some amount of sexual overtones …or maybe just typical boyishness.
Suddenly the audience is transported to a future time in which the now teen-aged Ole struggles to understand his girlfriend, who is disappointed from the lack of intellectualism in their relationship. Sub-themes of conservatively protective parents, school parties, and jealousy are  in the mix, but the focus of the story-line  is obviously on the relationship between Ole and the girl.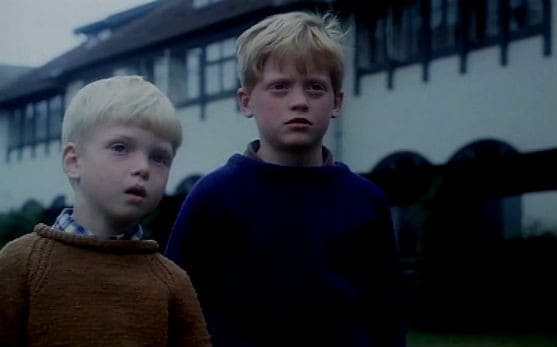 Another sudden transition brings us further into the future where the grown up Ole (now twenty-six years old) sneaks into a university dormitory to spend some time with a girl. Finally,  as if to confuse the audience more, the action returns to where it started —  showing Ole waving good-bye to his cousin after almost being caught playing "a couple"…
Overall, the action in the film is slow paced, which added to the confusion resulting from the sudden time shifts within the story, leaving this viewer a bit frustrated. Granted one can conclude that the development of a Danish boy into a man is what the film is trying to portray, but when nothing really occurs one can quickly lose interest. Yes, the film might be realistic — and yes, not everyone's life is filled with exciting adventures and dramatic turnovers – but then not everyone makes a film to show the mundane moments of growing up. It feels odd that I am the one to state such things, given my affinity for the Coming-of-Age genre …
Director Malmros has said that he considers Drenge to be an autobiographical film — "an attempt to reconstruct some moods and sensations from different eras in my own life." Yet, as I'm uninterested in the social life in Denmark in the 60s or 70s, when the action in the film takes place, and as I'm not willing to develop a theory about the meaning of the film interconnecting all happenings in the life of its young protagonist at the different stages of his life – I am not recommending this film.