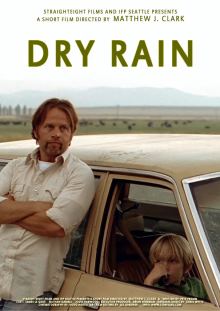 Dry Rain is a 2008 short film starring James Le Gros  and Nathan Gamble. Based on the short story Dry Rain by Pete Fromm, Dry Rain tells the story of a father who steals his son from his ex-wife and crosses the border into Canada.
The musical score of the film is comprised predominately of soft country music and the setting is mostly wide open fields. The overall cinematography of Doug Hostetter gives the picture a feeling of calm, while still keeping it within the traditional American road movie aesthetic. Director Matthew James Clark relied mostly on dialogue for character development, taking full advantage of the talents of the film's cast — with James Le Gros as the father and Nathan Gamble in the role of his son Joey.
At the end of the film, what happens next is left up in the air. The meaning of the film lies in the change that occurs with the father while on the road.  He realizes that because he's been gone for such a long time, he and his son have little in common and that Joey will be better off with his mother.  The son helps the father face that reality.
It's up to the viewer to determine the motives that drive the characters.  For Joey's father, it could be a wish for redemption, a desire for escape or a change in his lifestyle by having his son with him. While for Joey, he's mostly going along with everything and just having a fun time as any kid would in his situation.  Despite the fact that he's really being kidnapped, to Joey he's on a vacation with his father.
Dry Rain is an intriguing short film.  At first, I kept wanting to see a real connection between father and son.  But it became apparent, as the film progressed, that after so many years living apart from each other (as is evident from their conversations), they almost appeared to be from different planets. I find this manner of storytelling quite captivating. The viewer is left to imagine the past life of the protagonists and determine the traits of their characters by observing their actions and listening to their words.
If you are interested in film-making and/or like the film, check out its blog for a behind-the-scenes look at its making. You'll also find an abundance of production photographs there. You can watch the film in its entirety on the Vimeo account of its director Matthew James Clark.  ( Vimeo.com video /23054691 )
Dry Rain Trailer