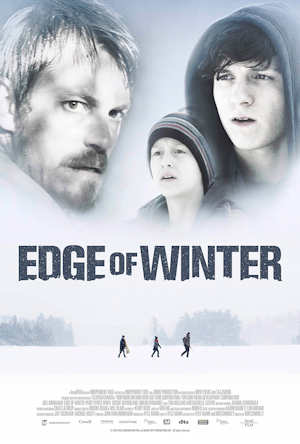 Edge of Winter is a captivating and intense Coming-of-Age drama from Canada (it's a co-production of the USA and Canada, yet it is overall stylistic is characteristic of Canadian Indie cinema).
Elliot Baker (Joel Kinnaman) is a middle-aged, broken-down father who gets a chance to spend time with his two sons, who otherwise live with their mother and her new partner. With little with which to amaze the boys at his run-down apartment, Elliot takes his sons on a trip to a remote forest (in what appears to be a national park) to teach them how to shoot a gun and generally "man-them up".
Elliot loves his sons and wants to ensure they are having a good time with him. It is not until younger son Caleb's admission that their mother's new husband plans to move the family to London (halfway across the world in Elliot's own words) that things start to unravel. A nervous breakdown is followed by a car accident leaving the party of three stranded in the snowy wilderness.
The actors cast in the lead roles of Bradley and Caleb Baker are outstanding, namely Tom Holland (known for his role as Billy Elliot in Billy Elliot The Musical, and movies such as The Impossible, In the Heart of the Sea and Captain America: Civil War) and Percy Hynes White (whose performance in the 2014 Canadian indie flick Cast No Shadow made a positive long-lasting impression on me).
The two young actors work well together and, to pull off credible performances, managed to bring together the elements of fragility, naivety, confusion, and strength into their adolescent characters. This, in turn, leads the viewer to empathize with their characters and the situation in which they find themselves.
As one observes the boys' reactions to the outward challenges to their beliefs and attitudes, the dynamic nature of their characters comes across strongly. With their lives endangered, in their initial innocence, they realize that they need to alter their behavior in order to survive. That's when the Coming-of-Age motifs of the narrative are best emphasized.
Official Trailer
Intense and suspenseful scenes are present and, while the story does not exactly shine with originality (one may recall the two brothers and their father in the wilderness motif from Andrey Zvyagintsev's 2003 psychological drama The Return), the tension builds nicely and one never feels bored or annoyed watching the film.
The story in Edge of Winter is simple enough to follow, yet with a degree of complexity introduced by the alteration of the character's personalities. The dramatic structure of the film (as drama is indeed present) follows a linear approach with all of its elements – exposition, complication and a climax – well developed.
Thanks to the immaculate camera work and visual design (especially when it comes to the story setting – selected as if to play reflect on the character of Elliot Baker), Edge of Winter has an atmospheric, ominous feel to it that further enhances one's cinematic experience.  All in all, Edge of Winter is an excellent film with a well-told story and strong acting performances. I don't hesitate to recommend it to any fan of the Coming-of-Age genre.
http://www.imdb.com/title/tt4526546/combined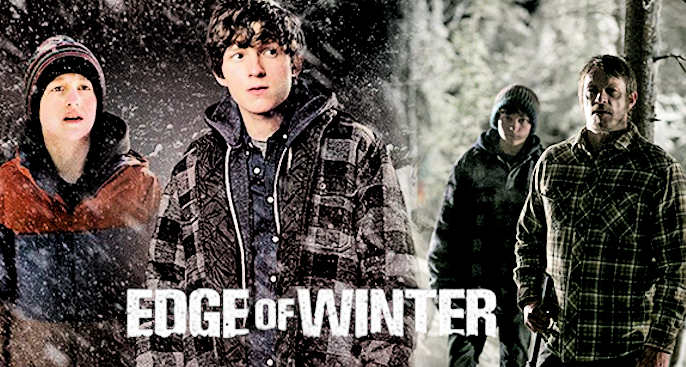 In short
An excellent film with a well-told story and strong acting performances. Highly recommended to any fan of the Coming-of-Age genre.