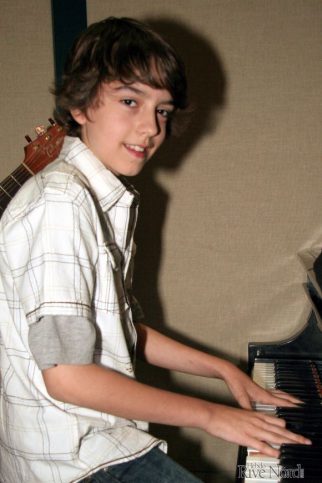 I have heard of Elie Deupis before , but it was a recent recommendation from a friend that made me waiting to write an article about him. At the moment I am listening to his song Band Band – recorded for the soundtrack of the French film " Mommy is at the Hairdresser's " and am really striked by his voice and the emotions he delivers while singing . ( I am also trying to remember where I have heard that song before – it was another treble performer – but his name has slipt out of my mind ).( another great performance of the song is the one of Nancy Sinatra – but I don`t have her in mind )
Listen Bang Bang performed by Elie Dupuis :
Elie's family got a piano when he was 10 years old. After only two years of practice he sent a demo to a Canadian program called La Fureur.Because of his appearance on La Fureur he was chosen for one of the main roles for the film Maman est chez le Coiffeur (2008) where he shows off his musical skills.
Also in 2007, he was invited to Telethon Operation Enfant Soleil, where he met Annie Villeneuve who will give him his first song. He will join on stage to Charlemagne in a duo.
He performs regularly on the stage of Théâtre Hector-Charland, among others the benefit of the Fondation des Auberges du Heart, an organization that hosts youth homelessness or experiencing difficulties.
Elijah said he was "delighted" to live this experience with professionals who, like him, "vibrate for art.
The Blog of Elie at SkyRock
Do you like the musical of Elie Dupuis ? Do you know something more about him – not listed there . Send me a comment or a message @skykid ( in twitter )