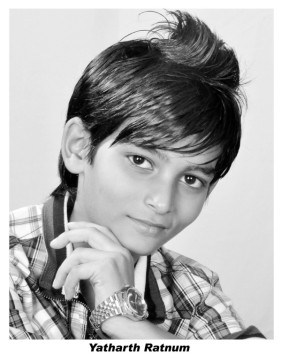 Several months ago we introduced Yatharth Ratnum – a promising young singer and performer from the holy city of Varanasi, in the north-east of India. He was a contestant on a TV show from Mumbai called "Sa Re Ga Ma Pa L'il Champs" and was honored with a special award for Outstanding International Vocalist at the 31st Annual Young Artist Awards. A star in the making, the 13-year-old Yatharth is taking the world by storm.  Due to the immense interest towards him and his music, we decided to conduct a special interview with him for the readers of theskykid.com and the listeners of our radio program.

Hello Yatharth and thank you for agreeing to this interview for theskykid.com and skykid.com radio!
TheSkyKid.com: You have a really great voice. Have you had any formal vocal training?
Yatharth  Ratnum: Thanks … oh yes… I've had formal training for voice since I was 11 and I also play guitar. And I am going to be starting guitar lessons soon …

TheSkyKid.com: How old were you when you started to perform?
Yatharth  Ratnum: I was 5 years old when I did my first ever live performance… and I finished 1st in that contest.

TheSkyKid.com: Recently you flew to Hollywood to be honored in America with a special award for Outstanding International Vocalist. Tell us something about the trip and what this award means to you?
Yatharth  Ratnum: OH YES .. My trip to Hollywood was a life changing experience I would say …  not only because I got this prestigious award but also because I met so many great people there  It was awesome. I got the award for Outstanding International Vocalist…from the Young Artist Awards …which gives awards to young talent. The award was unexpected and I thank everyone at the foundation for this it.  I had a lot of fun. Went to Disneyland, The Guitar Centre … etc…. Had a super cool tour….

TheSkyKid.com: Your talent has won you a lot of fans, not only in India but also in other countries. Are you planning any concerts in other countries, such as in Europe or Russia for example, either as a soloist or jointly with other artists?
Yatharth  Ratnum: Well yes … I believe in the truth that there are lots and lots of super cool people who love me…. And I really love all my rocking fans … And yes, probably if my World Tour Plan goes well, then I would be having live concerts in the USA, UK, EUROPE and CANADA…. beginning in JULY.

TheSkyKid.com: Freddie Mercury (whose real name is Farrokh Bulsara ) was born in Zanzibar and grew up in India until his mid-teens. At his high school in Panchgani near Mumbai, India he formed a band with some of his friends.  Have you ever thought about doing something like that yourself?
Yatharth  Ratnum: My world of dreams and goals is very big. I have a dream of becoming a rockstar (singer), an actor and a music director — so my dream goes.  I am working very hard at achieving it and, hopefully, I will surely achieve it with all the love I get from my fans and elders …

TheSkyKid.com: Mercury was greatly influenced by Indian music in his early years as a performer and was particularly fond of the work of Bollywood playback singer Lata Mangeshkar.  Has any such singer influenced you?
Yatharth  Ratnum: Yes I love MS. LATA MANGESHKAR … and she is a school in herself .. If you listen to her songs, they can teach you many things …My biggest personal influence is Michael Jackson…. His attitude towards his work is great … and also the way he presents himself is awesome …I love his music and style. Even if he no longer with us, his music will always remain alive …

TheSkyKid.com: We've read in the past that you've said English is your favorite subject at school.  Do you continue to like studying it?
Yatharth  Ratnum: Yeah .. English has been my favorite subject since my childhood … and is till my fav. I like science also …and, yes, I always read books and stuff … and also study English grammar.

TheSkyKid.com: What is like to be a student at the Sunbeam Bhagwanpur school in India?
Yatharth  Ratnum: Well, I used to be in SUNBEAM  BHAGWANPUR. But now, as I don't have much time, I am taking private lessons.

TheSkyKid.com: The music of India is very colorful and filled with tradition.  Do you feel like an ambassador for Indian culture when you perform abroad?
Yatharth  Ratnum: Yes.  Indian music is very bright but also it has many colors and flavors.  I believe that the best thing you can do for your country is to represent the country internationally.  You get respect from other people, for yourself and your country.  I feel so honored to represent my country all over the world and I am proud that I am  INDIAN.
TheSkyKid.com: Have you given any thought to performing in movies or India's culture festivals?
Yatharth  Ratnum: As I have mentioned, I want to become an actor and that too in Hollywood (American film industry) and India. So I am very much hopeful of getting work in  the USA very soon. Also, my agent in America,  The Osbrink Agency,  is doing a good promotion for me to the casting people there..

TheSkyKid.com: Is there anything you'd like to say to your fans?
Yatharth  Ratnum: There are many, many things to say … First of all, I would like to say thanks to all my fans for making me a hit and also for their love. You all can watch my videos on YOUTUBE — just search for  YATHARTH RATNUM. And  you all  can follow me on Twitter  @ www.twitter.com/YatharthRatnum.  And I have big news! My very own brand of MERCHANDIS  – the "YR" brand — is coming very soon. You can buy my autographed T-SHIRTS, caps and thousands of other things. They will be available on my website www.yatharthratnum.com.  So watch for the merchandise and website … and tell everyone you know!   THANKS

TheSkyKid.com: Thank you for spending some time with us.
Yatharth  Ratnum: Thank you for giving me this honor…
[nggallery id=95]
We conducted the interview with Yatharth over the phone.  In addition to what you have just read, above, he also performed a special song for the readers of theskykid.com and theskykid.com radio.