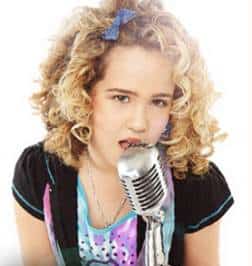 The Mystery Artist Show is broadcast weekly on TheSkyKid.com Radio.  Each week Jeffrey, the program's host, introduces a young artist from somewhere around the world. In July of 2012, TheSkyKid.com radio aired an exclusive interview with twelve-year-old CJ Fam from Ft. Lauderdale, Florida. A YouTube star and immensely talented performer, CJ Fam recently moved to Los Angeles, California in order to pursue her singing and acting careers.
Note: This publication is a transcription of the original interview aired on TheSkyKid.com radio. The clip included below features the whole interview and snippets of the songs that were played during the live broadcast.  In this transcript, "TMAS" will represent the questions posed by the Mystery Artist's Show and "CJF" will be CJ Fam's answers.  Jeffrey has also provided some post interview commentary that was not part of the interview as aired, but rather represent his impressions of the interview after the fact.  Those comments will be shown as "Jeffrey".

TMAS: Some mornings when you get up, do you just say to yourself, "Hey I think I'm going to write a song today?"…or do the words just suddenly come from deep down inside?
CJF: Well sometimes when I write a song, the words just come to me or I think of a melody on the piano. Usually my piano is my main source for writing music. I guess it's when I'm feeling a really big emotion: if I'm feeling happy, I write a happy song; or if I feel sad, I write a sad song.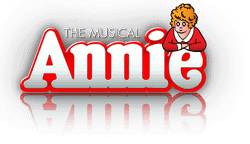 TMAS: So when and how long will you be performing for the production of Annie the Musical?
CJF: I'm probably too old to play Annie again but I did play Annie four times, Equity in Illinois and Missouri. It was a lot of fun for me and if I get a chance to do it again, I really would.
TMAS: Will this interfere any with your regular performances?
CJF: I don't think it will interfere because, yet again, I'm probably too tall to be performing in Annie again but, if it did, I would definitely work my schedule around it.
CJ Fam – You're The One For Me
 http://youtu.be/5_uiYfypkc0
TMAS: How did you manage to come up with this new genre (ROP) category?
CJF: I guess how I managed to come up with it is that I love Rock so much and I love Pop, so why not mix them both together and come up with a new genre? I think, to me, it was really hard to choose sides or to choose one of them and go with it. I thought that I had to do both and I think it's a really cool genre.
TMAS: What kind of advice would you give other young artists such as yourself just starting out?
CJF: No matter what happens, you should always dream, always keep that dream with you because that dream is what carries you through the whole way. People are going to say "NO" and people are going to reject you, but that doesn't mean you don't have what it takes. That's how all these famous people get famous because they have been rejected hundreds of times but it's that one person that says "YES" and the world just changes. Don't ever do what other people tell you to do. You have to be true to yourself. If being true to yourself isn't what somebody thinks is good, then that's not right for you.
TMAS: Even though you love performing on stage in front of thousands of people, has there ever been a time when you were nervous or scared to perform?
CJF: Yeah.   I do get nervous when I perform on stage, but I think that's what keeps me on my toes. That's what keeps me going. That's what makes me strive to do better every time that I perform.
CJ Fam – Who You Are (Jessie J Cover)
TMAS: The very first video I saw you in was of you singing the cover of Janis Joplin's Pieces Of My Heart and I remember commenting to you on Twitter that Janis would be proud of you. Are there any plans to cover other Janis Joplin songs?
CJF: I love Janis Joplin so much! The first time I really heard her was when I heard the song Pieces of My Heart and then I just fell in love with her. I'm so excited for doing more of her songs because she is so like me and I can really connect with her and that's the key to doing a song by somebody else — making sure you can relate to them.
Jeffrey: Has Janis Joplin come back as CJ Fam? It's a very strong possibility after hearing and watching CJ perform some of Janis's songs. If not, then CJ is the next best thing.  So be sure to follow her career to see how great she will become as she matures into adulthood. CJ formed CUPTS.  CUPTS is short for  "Cheering Up People Through Singing".  It's a non-profit corporation that provides free entertainment for Ronald McDonald Houses, children's hospitals and the American Cancer Society.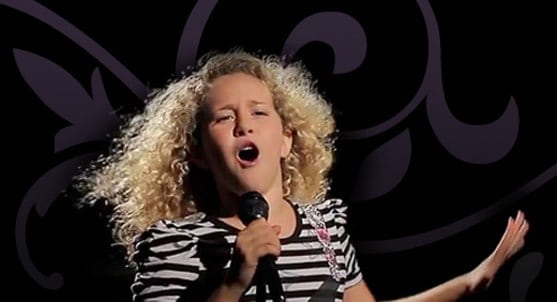 TMAS: How did creating CUPTS come about?
CJF: I really wanted to do CUPTS because I wanted kids to have a chance to actually laugh and forget about their sicknesses for just a few minutes and let them actually have fun and hear the magic that music can bring to the world. I go and think of the Ronald McDonald House and The Joe DiMaggio Hospital.
TMAS: How and why did you ever get started helping with charities such as Ronald McDonald Houses, Tunes For Tots, American Cancer Society and Make A Wish Foundation?
CJF: The way I got started with helping out all these charities was online and reading about them and understanding what they really meant and what was their cause. I feel like it was so amazing that I could give back to the community and cheer up people by the joy of the music that can enrich people's lives. It's just such an amazing feeling inside.

CJ Fam collabs with Twilight writers ( published on her web site on May 23, 2012 )
TMAS: What's it like working with the songwriter from the Twilight Saga?
CJF: It was totally fun working with the writers from the Twilight Saga. They had so much to bring to the table. I learned so much that I never thought that I could learn. Everything in there was about music.  Everything that we talked about was music related. It really taught me a lot about people and what they do to share the music with the world.
TMAS: Is there anything else you'd like to add before we go?
CJF: I love singing and singing will always be my passion. For all those people out there who have a dream, roll with it. You never want to end up being one of those people that are saying "What If". You always want to say "I Did It" and I achieved my goal that I've had for years. I just wanted to thank you for having me and for thinking of me with having these questions.
Shortened version on the interview originally aired on TheSkyKid.com Radio
http://youtu.be/HIGGCRtIWfU
For more on CJ Fam visit her official web – site at : CJ Fam.Com
CJ Fam`s Twitter, Facebook and YouTube
More interviews conducted by Jeffrey are available on TheSkyKid.com and the show page at TheSkyKid.com radio website.