Sometimes You Don't See What Is Right In Front Of You
If you like watching coming of age movies, you will be able to recall at least a few flicks in which the main protagonists are a girl and boy – learning about the world that surrounds them and each other. Here are a few titles to refresh your memory: Have Dreams, Will Travel (2007),  Kisses (2008), My Girl (1991) and the short film Marry Me (2008). In the majority of these films, the viewer observes the evolving events, often lead by a narrator or through the eyes of one of the characters. The 2010 film Flipped offers a rather intriguing take on the familar  "boy meets girl"  theme by giving us a glimpse of both the boy's and the girl's mentalities. To achieve that, the director decided to split the film into parts and allow the visitor to experience each scene twice. By doing that, the coming of age experience of both characters is presented in an entertaining, romantic and uplifting manner.
The film is based on the novel Flipped by Wendelin Van Draanen and it follows the relationship of two kids,  Juli Baker (Madeline Carroll) and Bryce Loski (Callan McAuliffe). When Juli sees Bryce for the very first time, she falls in love with him.   Bryce, however, being overly shy like most boys his age,  is terrified from the attention of the unknown neighborhood girl (as his wannabe girlfriend) and, in the next six years as they grow into teenagers, does everything he can to avoid Juli. That is the begining of what he calls "a half a decade of strategic avoidance and social discomfort".  Juli, who is  convinced that he secretly likes her but is too shy to admit it, plots plan after plan to show him that he has nothing to worry about.  But is Bryce worth her efforts and attention ?   His behavior towards Juli reminded me of my own when I was his age – which gradually changed with time much as Bryce's does when he "grows up" – in a way that is not necessarily related to age.
The strong performances of the two young leads contributes greatly to the overall atmosphere of the film.Yet  Flipped doesn't escape the typical Hollywood oversimplification of the story and its characters.  Yet, in this case, the cotton – candy view of the world is rather suitable  for this bittersweet account of  first love and the confusions associated with it. As the film focuses on middle school-aged love and friendship, its main audience is expected to be of the same age group as its characters. However, given the nostalgic value associated with family-oriented coming of age  films such as Flipped, one can safely assume that the film will appeal to an older audience as well.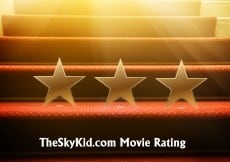 Film title: Flipped
Release year: 2010 – Castle Rock Entertainment
Director:  Rob Reiner
Cast: Madeleine Carroll, Callan McAuliffe, Anthony Edwards, Aidan Quinn, Penelope Ann Miller, Rebecca De Mornay, John Mahoney and Morgan Lily