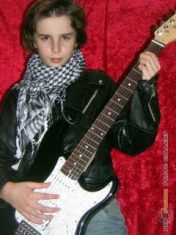 This past September we spent some time in Australia followed up with just a short flight across the ocean to New Zealand. This month we travel to Dortmund Germany where we find one of the best young voices that Dortmund has ever birthed.
Thomas Hans, a young man who will turn 14 on December 2nd, sings and performs like he was twice that age and has already captured an audience of thousands.
When I first heard Thomas sing I was amazed at his vocal quality. There are many treble singers, but only a few who can capture the essence of a song like Thomas. He immediately catches the attention of the older set due to his unique interest in music that is more than four decades his senior. Listen to Thomas as he belts out "ONLY YOU" or his rendition of "Unchained Melodies" below or visit his You-Tube Channel or his Web Site for some of the other songs that he truly makes his own.
Although Thomas is just in his early teens he is no rookie to singing. He began his singing career at ten years old after being discovered by his music teacher in primary school, where he sang as a soloist in the Dortmund choir. The choir used Classical Music in their repertoire which is most likely how Thomas came to love this type of music. He told us that he enjoys many types of music, but especially enjoys Classical, classic rock, pop, and ballads.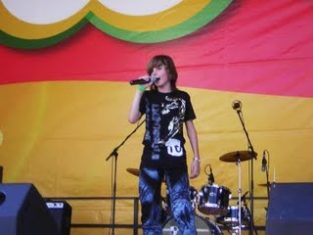 Thomas has performed in many singing contests. In September of 2008 he performed in the semi finals at the Kiddy Contest in Vienna. This past February he was invited to perform as the only boy from Duetschprachigen Europe with 5 girls in a Disney Channel Competition for the title song of Hannah Montana's Best of Both Worlds. In April he competed in "Germany's Next Show Stars" followed up by his June appearance in Germany's DAS SUPER TALENT where he made it to the 3rd round finals. This past summer he performed at the Talent Show in Oberhausen and in Düsseldorf.
Thomas enjoys a variety of foods but Italian and Chinese are his favorites. He lists his favorite drinks as Spetzi water and malts. Thomas loves to swim and really enjoys zombieball. Bruce Almighty and The Pink Panther are his favorite movies and names Mel Brooks, Leslie Nelson and Charlie Sheen as his favorite Actors. Television shows he enjoys are: Two and half men, Futurama and the Simpsons.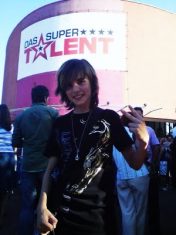 Thomas feels most comfortable in his leather jacket and jeans but will dress in a suite if the occasion calls for it. School subjects he most likes are English, Music & Sports. Thomas can speak Russian, French, Spanish, Latin and English as well as his native German tongue.
This is one amazing young man who you will want to follow both on his You-Tube Site and his own  Site. Be sure you return to learn more about Thomas as I will update you as he forwards more information to me about his most recent activities, concerts, gigs, and appearances.
Thomas! We are truly a fan and will be watching in anticipation for your next video release, song, or competition. Without a doubt, you are a fresh young performer that has already proven to have what it takes to be Germany's next BIG STAR!
—————————–
The article above is a guest contribution by Rivenmaster. He has an amazing blog described as:
"Rivenmaster's Place is the home to Young Treble singers, aspiring actors, and talented youth."