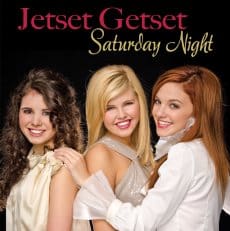 They sing uplifting songs in three-part harmony, dance nonstop onstage, and tease each other good-naturedly. They have tons of fun entertaining fans, while working harder than they ever would have imagined, growing up in small Midwestern towns. Meet Jetset Getset (JSGS), an up-and-coming teen group with an exciting new Nashville-recorded album, Saturday Night, and an accompanying music video for the title track.
"Ever since I was a young girl, this is what I have wanted to do," says singer Tori Little, 15. "I was born listening to Reba McEntire, so I have always looked up to her. She is one of my biggest influences." And it shows. Onstage, Tori puts aside her modest demeanor and exhibits the same playful, no-nonsense attitude as her partners, 15-year-old Sadie Loveland and 14-year-old Avery Eliason. The three gals, from Dearborn County, Indiana, did not know each other until they were recruited to join Jetset Getset in 2011 by the group's founder and manager Kelli Jette, who discovered them individually. Now they are best friends."These are strong, independent, young women," Kelli says. "Our goal is to set high standards that other kids will want to follow."
"I think of Jetset Getset as classy but fun," adds Sadie, who is often described by her bandmates as the "giggler" of the group. "We want to be an example of how hard work can pay off."
Classic Country with a Contemporary Twist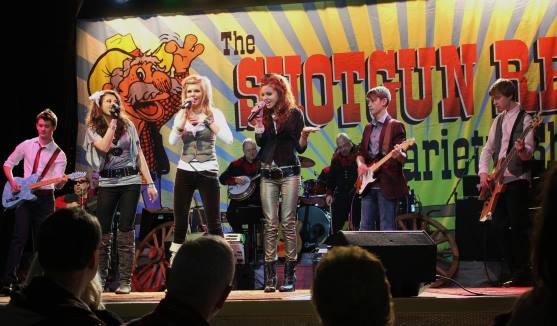 Jetset Getset performs on The Shotgun Red Variety Show on RFD-TV in Nashville.
Credit:  Photo by Angie Little
"Before I joined Jetset Getset, I really didn't know much about country music, although I was always a huge Taylor Swift fan," Avery admits. "I like how she writes songs that appeal to everyone."
Avery, who began taking singing lessons at age nine, had previously sung at her church and school, but not professionally. After joining JSGS, she quickly realized how much time and work it would take, if she was going to be serious about the business.
"We practice every day, and I had to give up playing sports," she says. "Our parents are sacrificing a lot, too, in terms of time and money. I am being home-schooled. Being in the band affects everyone in my family. They are incredibly supportive."
Avery describes JSGS as country-pop with an emphasis on fun. Since coming together, the group has performed before enthusiastic crowds across the North, South and Midwest, at such venues as the nationally syndicated Shotgun Red Variety Show on RFD-TV in Nashville, the Indiana State Fair, the Kentucky State Fair and the Kentucky Speedway, where, not surprisingly, the group's NASCAR Song was well-received. While most experiences on tour have been positive, there was one unfortunate incident at the Minnesota State Fair, where Avery got sick on a wild ride, after eating too many cookies and deep-fried pickles.
"Luckily, it happened after we had finished performing," she laughs.
As a result of their many concerts, JSGS has attracted a loyal fan base. The group's first homemade music video, for their signature song Indiana Baby, quickly generated more than 70,000 views on YouTube. The admittedly cheesy video depicts the girls on a virtual tour of the U.S., singing about all the cool places they would like to visit, as long as they can come back to the place they love most—the Hoosier state. With clever lyrics and a catchy tune, the single has been popular on iTunes.
 JetSetGetSet on RFD-TV's Shotgun Red Variety Show
Saturday Night in Nashville
 In the spring of 2012, Jetset Getset reached an agreement with Nashville-based Playback Records to record their first professional album, Saturday Night. Since the label is owned by veteran Nashville producer and radio personality Jack Gale, there was no doubt the album would have outstanding production values and both a modern and classic country sound.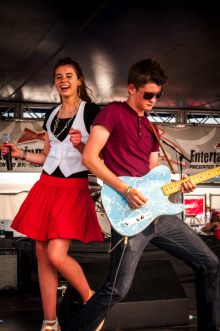 Jack and co-producer Jim Pierce called on some of Music City's top musicians to work with Jetset Getset. They included Kerry Marx (who worked with Bob Dylan and Johnny Cash), drummer Eddie Bayers (George Jones, Dolly Parton), acoustic guitarist Michael Spriggs (Trisha Yearwood, Eddie Rabbitt), bass guitarist Duncan Mullins (Brooks & Dunn, Amy Grant), pianist Michael Rojas (Martina McBride, Lady Antebellum), fiddler Rob Hajacos (Kenny Chesney, The Band Perry) and fiddler/mandolin player Wanda Vick (Travis Tritt, Billy Ray Cyrus).
 (Left, Sadie Loveland rocks out with guitarist Jason Owens, age 16.)
Credit: Photo by Bob Loveland
Some songs on Jetset Getset's new album are serious, like the uplifting Stronger—
 "Though some people see coal
You are a diamond in the rough
Under pressure your heart becomes scarred in places
But a scar is much stronger than what it replaces."
Other songs are more humorous, like Vitamin U—
 "Don't need vitamin C cuz you're my therapy
Don't need vitamin D cuz you're the sun that shines on me
Don't need vitamin A to get me through the day
All I need is vitamin U."
JetSet GetSet  – Saturday Night
But it is the title track, Saturday Night, that is perhaps the most fun. In the song, Tori, Avery and Sadie sing about looking forward to the weekend:
 "I wish it was Saturday night
I wish I was feelin' all right
Oh how I miss you tonight
Wish it was Saturday night."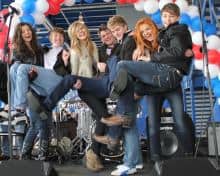 The video for Saturday Night was shot over two days at Lawrenceburg High School in Lawrenceburg, Indiana, and involved dozens of students, including the football team, marching band and cheer-leading squad.
"We couldn't have done it without them, and we are so grateful," Tori says. "Everybody got into the dancing and brought a level of energy that we weren't expecting. I hope people will have as much fun watching the video as we had making it."
Saturday Night may be finished, but the hard work is just beginning for Jetset Getset and their touring band: bass player Paul Kelley, 16; guitarist Jason Owens, 16; drummer Aaron Smith, 16; and guitarist Justen Jette, 15. Concerts and media appearances are being planned. Meanwhile, Sadie, Tori and Avery continue balancing rehearsals, performances and, of course, school.
"I love school," Avery says. "Even if Jetset gets really big, I still definitely plan to go to college. There will always be time to make music later."
Jetset Getset's Saturday Night is available at iTunes and Amazon. More information about the group is available at www.JetsetGetset.com.
# # #
Fred Anderson is a Los Angeles-based publicist and creative consultant. He works with actors, filmmakers, musicians, comedians and authors.
# # #