Reviewing the 2013 Junior Eurovision Song Contest
In the village, the peaceful village, a young girl sleeps tonight. It's a small place called Mgarr on the island of Malta in the Mediterranean Sea. The girl is Gaia Cauchi and she has just won the Junior Eurovision Song Contest!
She opens her eyes and recalls the final moments, the last notes of her song  The Start. Once again she hears the applause from the huge audience in Kiev, and she is happy!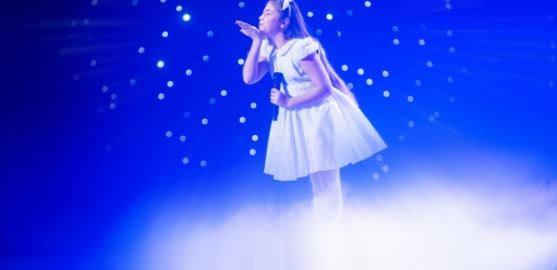 Watching this contest with Georgi (aka Sky Kid) we were comparing opinions, tastes and giving marks to each singer, noting that the acts were rushing by with very little in the way of biographical intros. There were 12 finalists competing.
Elias Elffors Elfström from Sweden started the show with a pounding rock ballad sung in a raspy near-breaking young voice. This was followed by young Rustam Karimov, representing Azerbaijan, whose song, Me and My Guitar, was nearly upstaged by his five well-coordinated dancers.
Monika from Armenia brought an entire chocolate factory on stage with great costumes and mime for her rendition of Choco Factory. Throughout the competition, the stage lighting displays were spectacular and well-suited. The mobile cameras, however, were at times distracting from the performance with rapidly changing shots and melodramatic zooms.
Representing San Marino, Michele Perniola looked almost too old for this contest at age 15, wearing a slick Travolta type outfit, singing a song called O-o-O Sole intorno a me that didn't really catch on.
F.Y.R Macedonia sent Barbara Popovic with a song called Ohrid i muzika — a hot-paced number and three dancers who tore up the stage, but left us cold. Why do they have to say former Yugoslav republic anyway?
Then it was time for host country Ukraine to present Sofia Tarasova, with We Are One, a song meant to sweep everyone away. It was good, but not special.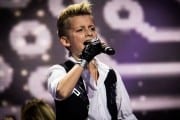 Ilya Volkov, a young blond kid from Belarus, followed that with Poy so mnoy and rocked the house with a sharp dance routine added to his vocal. Good stuff, but maybe the wrong song for him.
Rafael Bobeica, from Moldova, fascinated me with a voice able to slip into the operatic, but his song, Cum să fim,  was also not really a crowd-pleaser.
Georgia presented Smile Shop, an ensemble of six singers wearing retro suits and dresses that looked like they were singing Give Me Your Smile at a Greek wedding. This did not impress us.
The Netherlands gave us a very colorful cheerleader number by Mylene and Rosanne called Double Me that was cute, but unfortunately it came across like a Dutch Teletubbies episode.
So with only two acts to go, it was time for Gaia Cauchi to walk into the spotlight, wearing a white bridesmaid type dress with a small white garland in her long brown hair, which hung loosely at the back.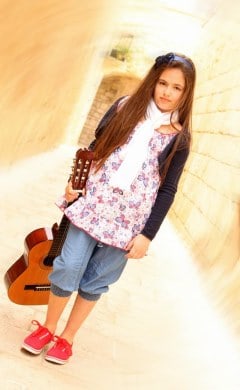 As she began her song, I sat up straight on the sofa and hushed Georgi. Here was a voice of the Earth, soft at first but climbing confidently, rounded and then billowing with power. It was a breathtaking sound that ascended to the very top of the auditorium, then burst even higher like a jet breaking the sound barrier! Now this was singing! And you could feel her magic sweeping over the enchanted audience, stunning and undeniably superb. Reviews speak of the reborn Whitney Houston and there are comparisons to Mariah Carey and Chiara!
But no, this was 11-year-old Gaia in her own brilliant first appearance before a world audience.
The last act was also very good. Dayana Kirilova from Russia sang Dream On with four background boys dancing big style in synch! But the impression Gaia had made was enduring!
Gaia Cauchi was born on November 19, 2002. Her song lyrics are not very complex. The Start is just about proving she can do it. And from those first lines, I was enchanted by this focus on the SINGER and the VOICE alone!
Junior Eurovision 2013 Malta: Gaia Cauchi – The Start
All rights belong to EBU/NTU.
                        "I have this voice inside
                          That I don't wanna hide
                          But people told me I can't do it
                          I know that I can do it
                           I know that I can make it
                           I'll reach for the stars
                           Right from the start"
Gaia first sang Me and My Teddy when she was very small and later took voice lessons from Gillian Attard. In 2011 she sang Proud Mary in Rome at the Ti Lascio Una Canzione. She won the prestigious Festival di Sanremo's Junior category and was selected to represent Malta in the JESC in September 2013. Gaia also won the 2013 Malta Music Awards, all of which is no wonder when you hear her sing.
Having reviewed her video several times now and having listened to the qualifying performance, I am still stunned by this surprising voice. I'm very sure that this young girl will wake up to many more beautiful recalls and will hold many more audiences in awe. The final score for Gaia was 130 points, closer than many had predicted.
Top marks from me to a girl who knew that she could do it — a girl from a small village on a small island with a huge future!
Best wishes from rjmendera