It's about time I introduced you to another talented musician – Grant Austin Taylor.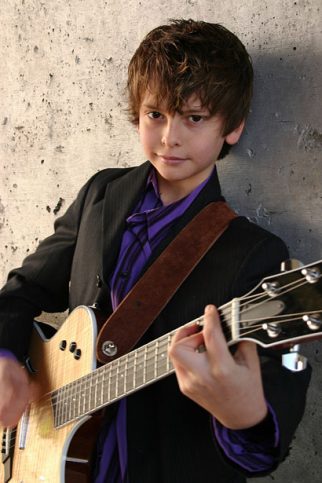 Most of you are probably familiar with his music – yet I hope that this article serves as a reminder to check his recent songs. It has been several years since I heard of Grant Austin Taylor for the very first time – yet I am thankful that a visitor to my blog sent me a message about him and naturally I could not resist doing an article on him. I almost feel guilty that I had to be reminded of this incredible performer — keeping in mind that he plays my favorite style of music (rock). I am repeating myself a bit here as I wrote something similar about Zach Raizman, but this only confirms how much one could miss while trying to stay updated with the scene out there.
Grant Austin Taylor may be only fourteen (soon to be fifteen – he was born on May 9, 1995) but he already has some really impressive achievements – such as the  special award for Outstanding Young Original Blues-Rock Artist at the 28th annual Young Artist Awards (2007) and the "Patriot Award", awarded by the United Service Organizations. Also worth mentioning is that  his band has opened concerts for such titans of the rock music world as Motley Crue  and  Aerosmith.
In 2007, Grant Austin Taylor released his first album which consisted of five remastered songs recorded at his live performances in the same year. The band for the live gigs included Harvey Kojan on keyboards,  Jimmy Wiseman on bass and keyboards and Judas Priest drummer Scott Travis. Along with Grant's amazing guitar skills, which really show in the second track of the album We Walk Alone (my favorite from the album), we get to hear the talented  Jimmy Wiseman on bass and keyboards and Judas Priest drummer Scott Travis who helped Grant for his first EP. The fifth song of the album is an instrumental called Rockin P-Town which combines great bass guitar, solos and drums in a vibe guaranteed to make you wanna dance. For those more sentimental, there is the ballad Make This Love Last which is  one of the songs he performed at the 28th  award ceremony of the Young Artist Awards- it is the 3rd song from his album. The fourth song in the album called When Life Turns Gray has a lot of soul in it – and some great lyrics /
The 1st song, which I left for the end, is called That's The Way Life Goes. It has quite a unique sound  – an uplifting mixture of pop and rock with a notable vocal performance by Grand Austin Taylor.
I was most impressed, not only by the guitar skills of Grant, but also the fact that all songs in the album are his original compositions (both the music and the lyrics).
GAT on YouTube *** GAT on Twitter *** GAT`s profile on BCSD ***Grand Austin Taylor official web site ***MSN profile