I Am Gabriel might be seen as an uplifting and inspirational film by some people, but those adjectives are the least likely I would pick to describe after seeing it.
The action takes place in Promise, a suburban Texas city filled with people overwhelmed with problems, struggling to get by in their daily lives – people who have lost their hope for a better tomorrow. And then one day, a mysterious boy appears, walking alone on the side of the road carrying only one item with him – a prayer mat. He brings a message of hope and revival to the people of Promise – a way to salvation if they listen, accept and believe.
As a Christian-themed movie, I Am Gabriel has all the best of intentions.  But the way the story is presented is so cheesy it almost becomes laughable at times. Instead of making a subtle story of goodness meant to inspire (as in Mimi Leder's 2000 film Pay it Forward – starring Haley Joel Osment) or invoking emotions through brilliant storytelling (as in the 2003 masterpiece Most ),   I Am Gabriel is filled with so much in your face preaching that I suspect even the Christian support groups in the USA (who represent the only audience this film can really aim at) would find that the film is unlikely to achieve its otherwise admirable mission to spread the message of God or hope – or at least not without annoying its undoubtedly extremely patient audience.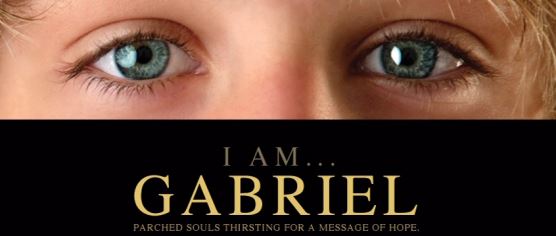 Gabriel`s ( Gavin Casalegno ) eyes
The technical aspects of the movie are nothing to rave about either.  The camera work leaves a lot to be desired.  There are numerous issues with the focus, camera angles and even the lighting of the scenes. The picture's cinematographic quality feels inferior even compared to the low-budgeted productions of my local TV channel.  And the audio effects and scores that accompanied the action are overemphasized to the point of being annoying.  Most of the scenes feel staged, and the dialogue is stilted and unnatural. The cast, which is comprised predominately of non-professional actors, tried their best.  But even the charisma of the young Gavin Casalegno in Gabriel's title (pay attention to the extreme close-up shots of his eyes) is not enough to compensate for the poorly written and executed script.
The best thing I can say about I Am Gabriel is that it features a family-friendly story with good intentions, and it's suitable for all ages. But if you're looking for an inspirational story that can entertain while teaching moral lessons,  you are better off choosing to Pay it Forward instead.
I Am Gabriel Official Trailer