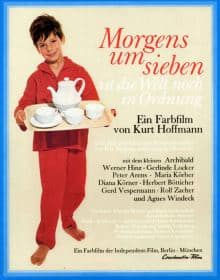 If you want to improve your German, watching films is your best bet and especially those with a Coming-of-Age narrative such as the charming In the Morning at Seven the World Is Still in Order  (Morgens um Sieben ist die Welt noch in Ordnung). Based on a book by Eric Malpass and directed by Kurt Hoffmann, the film focuses on the everyday life of a German family perceived through the eyes of its youngest member — six-year-old Gaylord (Archibald Eser).
Gaylord is a little tyke who is both innocent and mischievous. In addition to that, as are most kids his age, he is cute as a button. While nothing extraordinary (from the viewpoint of a modern cinema viewer) occurs throughout the movie, watching it is a real delight thanks to a variety of little excitements, frights and confusions that Gaylord experiences. The members of Gaylord's family have distinct and intriguing personalities. Thanks to clever scripting, one can follow multiple plot lines by observing the trials and tribulations of each character.
The vintage looking costumes, haircuts, cars and furniture are what I found especially appealing. You can see attempts to emulate the era in some more recent films such as Toto the Hero (1991) starring Thomas Godet and Toast (2010) starring Freddie Highmore. But perhaps because this film was released in the era itself, it seems to me that it provides for a truly authentic representation of the way people thought, dressed, etc. in the 60's.
While the story lacks suspense or surprises, it's humorous enough and intriguing despite its "normalcy". Not once did I take a look at my watch for the entire duration on the film. That, to me,  is clear evidence of how one can enjoy a well told unpretentious little story.
Scenes from In the Morning at Seven is the World Still in Order
If you watch and enjoy the film, you may also want to consider looking for its sequel titled: When Sweet Moonlight Is Sleeping in the Hills (1969).