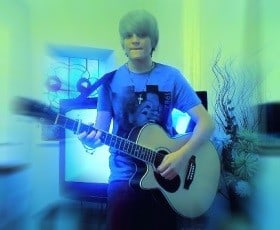 The latest skyrocketing internet sensation is a 14-year-old singer from London – Daniel John (Daniel J).  Only four weeks ago, Daniel started posting covers on YouTube and promoting them on Twitter with aplomb! Now he's also using Tumblr to promote his videos and updates and recently did his first live stream on Twitvid for his fans.
I found Daniel on Twitter pleading for users to sub his channel and bring him to 3,000 subs before January 1, 2012. HUMBUG, I thought. This was ten days before Christmas and, at that point, he had around 700 YouTube subs.  What a shock when I checked his channel a few days before the 25th and it was already at circa 2,000 subs! Like a Christmas Miracle, his popularity zoomed. By December 26th, Daniel had  45,270 views and 4,017 subs (#52 – on the December most subbed list in the UK), well over the goal of 3,000!
Currently (January 2, 2012)  DANIEL J has 58,508 views and 5,181 subs! We haven't seen this kind of star birth on YouTube since Justin Bieber (now iconic) did it some years ago.
http://youtu.be/G12TCUBhQ98
Daniel started by posting covers every second day and shooting interesting videos to match the songs – an admirable work rate, although the videos are short. Among others, he's covered several songs of Justin Bieber, Bruno Mars, Kanye West, Cody Simpson, Justin Timberlake and Chris Brown.  His voice is sandy smooth like his hair and is well-suited to romantic beats.  He  is a determined youngster who has a talent for picking the right kind of songs , modern and romantic, which appeal to a lot of people. Daniel J was born in The London Borough of Enfield  and has picked up guitar mostly from watching tutorials on YouTube.  He's done some busking and sang at a talent competition.
His favorite  artists?  Bruno Mars, Michael Jackson and, of course, Justin Bieber who he'd like to perform with sometime. Daniel has pledged to upload original songs in 2012 and will do a once monthly live stream via Twitvid for his rapidly growing supporters. We're looking forward to finding out more about this new singer and will be checking up on him in the future.
rjmendera  for theSKYKID.com