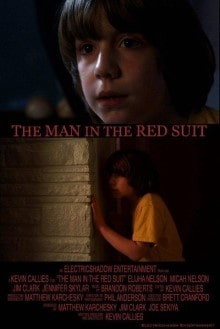 A few months ago – some of our readers suggested we nominate Kevin Callies's short film The Man in the Red Suit for the Fourth Annual Coming-of-Age Movie Awards. When the movie won the awards in the Best Short Film category, we contacted Mr. Callies with a request for an exclusive interview for the readers of TheSkyKid.com and we are very happy to report that he consented to spend some time with us.
The action in The Man in the Red Suit takes place the night before Christmas when David (Elijah Nelson ), a young boy who has been waiting for Santa Claus all year, wakes up during the night to find him (the man in the red suit) putting presents under the Christmas tree. The close up of David's face when he first sets his eyes on the man in their living room is one of the most delightful scenes in the film. His uninhibited expressive face lighted by joy and happiness touches the hearts of the viewers in a unique way.  It's as if his emotion is contagious – making each and every one of us remember the magical days of our childhood.
Clearly, there is a dose of magic in The Man in the Red Suit.  The excitement of the children – (David and and his younger brother Michael) and their worries " How do reindeer fly? How does Santa Claus squeeze down chimneys?", the Christmas decorations and the carols – makes us  feel  the spirit of the season.
But this short film is unique for one reason – its Director, Kevin Callies (who also wrote the story), managed to fit the essence of an important Coming-of-Age experience into just a few minutes of screen time. At the film's end, David understands the real meaning of the season – how we are able to create miracles for each other.
Official Trailer for The Man in the Red Suit
The Man in the Red Suit is available at I-tunes
Interview with Kevin Callies
Note:  For this interview, the questions posed by theskykid.com will be designated with a "SK" and Kevin Callies's answers will be shown as a "KC".
SK: Hello Mr. Callies and thank you for accepting our invitation to be our guest at TheSkyKid.com. First of all, let us congratulate you on the recognition your film received in this year's Coming-of-Age Movie Awards. What was your reaction when you found out about the support your film had gotten in the voting process?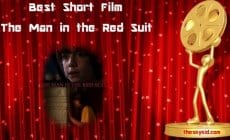 KC: Thank you for having me.  And we all feel honored by the recognition.  To be honest, I was confused and shocked when I first found out.  I did not know we were nominated or even in consideration.  So after all that settled in, it was pure excitement and happiness while I spread the news to the cast, crew, family, and friends.  Coming-of-Age is a perfect award to be bestowed upon this story.
SK: Could you tell us a little of your background and how you decided to get into the film making business?
KC: I'm not one of those filmmakers that knew from a young age that I wanted to be a storyteller.  It was a series of events that led me down this path.  I always had a love and passion for watching films, but the thought of being a filmmaker was a fantasy and seemed impossible for someone from Oklahoma.  When I was a kid I lived at the movie theaters, hopping from one film to another.  And, if I was not there, I was watching VHS movies back to back at home.
My exposure to comic books led to me drawing at a young age.  All I did at school was draw Wolverine, Batman, and Spiderman.  The Teachers did not mind either.  If anything, they encouraged it.  That led to taking art classes in High School.  Which led to me painting and then becoming a Fine Arts major in college at the University of Oklahoma.  It was my Sophomore year that I found out they had a film program with two ARRI 16mm cameras.  By the next semester I had changed my major to Media Arts with an emphasis on Film.  To me, though, I was still drawing — only with storyboards and I was painting — only on celluloid.
SK: The action of  The Man in the Red Suit takes place around Chrismas.   So I could not resist asking your opinion of what makes a good Christmas movie?
KC: When I think of great Christmas films, the two that come to mind are the most played at that time of the year:  It's A Wonderful Life and A Christmas Story.  One a story that warms the heart when friends and family come together, or picks you up when everything seems wrong. The other is a nostalgic story that reminds you of Christmas through the eyes of a child.  Good Christmas films, as a whole, are about believing and having faith.  Capturing the imagination, whether that be in Santa Claus or an old pudgy angle trying to earn his wings.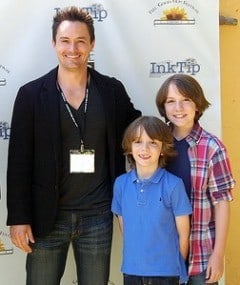 SK: How did you go about casting Elijah and Micah Nelson  for this film?
KC: It was a true blessing.  I always knew I wanted to find actual brothers, since the characters were so close in age.  And, by pure luck, the Casting Director I worked with suggested them from the get-go.  We had no auditions because, at the time, we were all working on a feature film nearly five hours away from Portland, Oregon, which was the closest major city.  I had only seen head shots of the boys before they arrived on the night before shooting in Bandon, Oregon.
 SK: Looking at your filmography, I see that The Man in the Red Suit is not the first film in which you worked with children. In 2006, you directed a short film titled Keeper of the Myth. Can you tell us about it and do you share the common assumption in cinema circles that working with children is hard and challenging?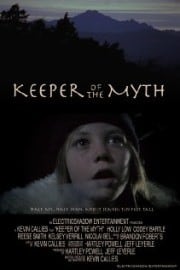 KC: On Keeper of the Myth, we had a cast that included all children around twelve-years-old.  The story is about five kids, who while camping in the Northern Rocky Mountains, encounter a mythological creature.  I do not have the same assumption about working with children at all.  They bring so much energy to the set and I feel that it motivates some of the older cast and crew.  All the child actors I have worked with and their parents have been very professional and I look forward to working with more children in the future.  A common thing I have found with the children I have worked with is confidence.  That good confidence that has not been tainted.
SK: On Facebook, I stumbled upon your drawings and I must admit I was really impressed with your talent. Where does the inspiration come from for your drawings? How do your drawing skills and poetry fit into your overall career and life as a filmmaker?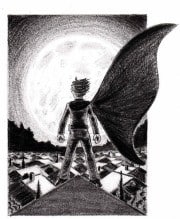 KC: Thank you very much.  My inspiration for my paintings and drawings is a separate entity.  My fine art is more about composition, color, and style.  With filmmaking, story dictates every decision.  As a filmmaker, I aspire to create a film where the audience will unknowingly escape into the story.  To achieve that, you need to be a magician with seamless editing and directing that does not draw attention to itself and is a slave to the story.  A common thing you will find in my paintings, drawings, and films is what I do not show.  Whether I conceal it with an object such as an umbrella or I leave it on the edge or out of the frame.  The same goes for storytelling.  I think what you choose to not show is as important as what you show.  Sometimes the audiences' imagination is more powerful and believable than what you present.  The challenge is if and when you decide to reveal, it needs to entertain their curiosity to the full extent.

SK: As this website mainly focuses on Coming-of-Age films, it would be interesting to know if you have a favorite Coming-of-Age film that you would recommend to the people reading this interview?
KC: I do and it is my favorite film of all time: E.T. To me, it encapsulates cinema in every aspect.  Pure escapism.  It inspires and echos throughout my films and scripts in so many ways.  A Coming-of-Age story told through the eyes of a child, set in the real world, which makes you believe in the unbelievable.
SK: Do you have plans to shoot a feature in the future?
KC: That is the plan.  Just which one and when is yet to be determined.  I have two feature scripts that my co-writer D.J. Halferty and I have written.  Both of them are of the family genre.  I've been in L.A. for six years now knocking on Hollywood's door.  If we can not find the right door soon we will have to build one from scratch.
SK: Thanks for taking the time to talk with our readers about your film and best of luck on your future projects!