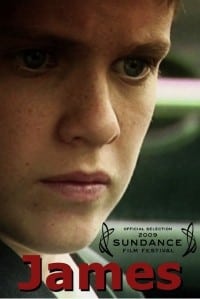 James is a short narrative drama written and directed by Connor Clements. What sets the film apart is its stunning visuals and for some, the controversial topic it deals with.  Fans of the coming of age genre would recognize Niall Wright( Mickybo and me) in the leading role of James.
James can be seen as both, a coming of age and a coming out film as it focuses on the feelings, doubts and decisions of a young boy in Northern Ireland who is trying to come in terms with his sexuality. What I liked in the story was that even though it followed some of the classic set ups for coming out films ( lack of understanding, dysfunctional family, confusion …etc.) – Connor Clements bravely decided to offer a different ending than most film directors would – thus making his film stand out. I would like to think of the ending as being open ended. The viewers can speculate widely the possible endings.
The film tends to build up a fair amount of tension in its viewers, which most likely is caused by the tension that the lead character feels. James is a very emotional film; sentimental without being overly melodramatic. It is the kind of film that makes you think about story line long after the final credits have rolled. Even as I am writing this review, I am overflowing with emotions such as irritation by the actions of James' teacher who quite selfishly refused to accept any responsibility for James, referring him to church groups and help lines instead.  I don't really want to spoil the story, but it's what you get sometimes when you ask for help or friendly advice; clichéd and canned responses of the kind. "One size fits all." Don`t get me wrong, support groups and help lines are not bad things in their core, but sometimes what we all need is a person who would listen to us, show some understanding and accept us as we are.
 Watch the full length movie below :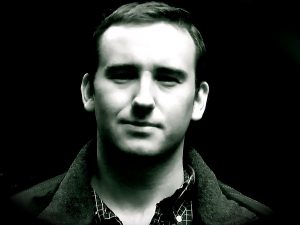 Mr.Clements was kind enough to give a interview about his debut feature " James " exclusively for theSkyKid.com :
Tell us a bit about "James": what's it about?
Connor Clements : Firstly, thanks for inviting me to do this Q&A, I always enjoy talking about the process of my work, and it's a honor to contribute to your blog.
'James' is my debut short film, made as part of my MA in Film and Visual Studies. The story deals with the struggles of a teenager and the loneliness and confusion he faces being withdrawn from the people around him. The only person he feels he can connect with is his school teacher, and when he finally puts a voice to his feelings, the response he gets isn't exactly what he had hoped for.
How did you cast Niall Wright for the role of James ?
Connor Clements :The casting process was the most stressful part of the production. Given that it was a drama that focused on one character,and that it had to be cast with a 15/16 year old, I was very concerned that younger actors may have difficult with the content or would refuse to play the part altogether.
After auditioning a few actors, all of whom were very talented, I still couldn't find the right one to play James. It was through the suggestion of a friend who recommended I watch the 2004 film 'Mickybo and Me' to see if Niall Wright would be suitable for the part. An interesting point is that the other main actor in that film, John Joe McNeill, came in for a workshop towards the end of the writing stage to help flesh out the character of James. We filmed a few scenes with him and Matt Jennings (who I eventually cast as the teacher) though unfortunately I felt he looked too young to play the part of James.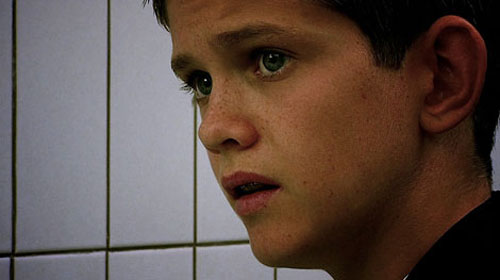 After watching Mickybo I then tried to track Niall down. Eventually I got a number for his mother, and we spoke about the film and the character, and she passed a script onto him. I received an email a week later and after Niall had spoken to his drama teacher, he decided to meet up and talk further. Thankfully he agreed to play the part as he saw the importance of the issues being raised, and in spite of my concerns about him being uncomfortable with the material, he was totally professional throughout and approached it with great maturity.
What were the greatest obstacles facing your team during the production and editing?
Connor Clements : As it was a no-budget film I had a very small crew during the shoot – I had a sound man, DP and camera assistant. The preproduction took a very long time as I had to do it all myself – the logistics of putting together a short film was insane. I spent several months once the script was finished trying to get everything ready for the shoot. One of the biggest challenges for me was putting together the choir scene. I had written the scene and drawn up the storyboards, the trouble was that I couldn't find the right song for the choir to sing, nor could I find an all girls choir willing to come in and be filmed!
I decided to contact music departments in local schools to ask if they could advise me on what music their choirs sign, but everyone was suggesting showtunes, which I didn't think would work as it would scream GAY! too early on. A composer friend suggested I write lyrics and she would write the music, however I had no idea where to start. In the end it was my old headmaster who helped out, he agreed to let me film in the school during the holidays, and gave me a CD with recordings of their girls choir. The track 'A Bunch of Thyme' stood out immediately, and I knew it was the track I was going to use. It's a traditional song from the 16th century about the loss of innocence, so for me it felt perfect for the film and it's theme is used throughout the film in order to give it a thematic continuity.
A challenge in the editing occurred when I decided to cut it myself. I soon discovered that a director needs an fresh pair of eyes to look at their material and so I brought on an editor soon afterwards who done a fantastic job with the film.
James is classifies as both coming out and coming of age movies – what meaning have those genres for you ?
Connor Clements :I had always thought of 'James' as a coming of age film as opposed to a coming out film. The 'coming out' is a plot point, the film is about the growing pains of a lonely teenager who can't connect with his family or peers. His coming of age occurs when faced with rejection from his teacher and decides to take an irrevocable step which is deliberately open ended and open to interpretation.
As theskykid.com mainly focuses on coming of age films it would be interesting to know if you have a favorite coming of age film who you can recommend to the people reading this interview ?
Connor Clements : Coming of age films have always been a favorite of mine. Having been on the festival circuit for a while now I have had the chance to see many great films that don't normally get seen in the multiplexes. One short film in particular called 'Varde', a dark Norwegian film where a young boy faces a moral dilemma after a prank one a friend goes horribly wrong. The film won Best short over 15 minutes at the Palm Springs Shortfest in 2008 ('James' won the equivalent student award at the festival)
A more recent film I would consider a coming of age film is '500 Days of Summer'. Although it's marketed as a romantic comedy, it essentially is a story about growing up and dealing with the trauma of a breakup. I had the privilege getting to know Joesph Gordon-Levitt at Sundance this year as our shorts were in the same program. I recommend '500 Days of Summer' to everyone, particularly all the guys who read this blog, it's rare that we see stories like this from a male perspective.
James received a worldwide recognition at variety of film festivals across the globe.  Do you have plans for a full featured film in the near feature ?
Connor Clements :The success of 'James' has been overwhelming, it has now won 20 awards and is playing at festivals until mid-2010 (including the first gay film festival cruise next May from NYC to Bermuda!). To be honest the success was unexpected, particularly as I didn't think anyone would ever see the film. It was a friend who submitted it to the first festival on my behalf, where it then won it's first award. After that I submitted to another and again won an award. Soon word spread and I was getting requests for screeners, something I am still getting every few days a year later.
What has been difficult about this success is trying to choose the right project to follow it up with. I was offered a few scripts to direct but couldn't relate to the material in a way that I feel could do it justice. I also wrote a followup short featuring the character of James for a short film development scheme, but turned down the funding as I honestly believed it wouldn't work as a short. Now I am more focused and am writing a feature based on characters in my short and plan on submitting to the Sundance writers lab in October, though I am still open for offers to direct another short. As the feature process takes a very long time, it would be good to make another short in the meantime. If anyone wants to send me some scripts I would be happy to take a look at them!
Is there anyone you want to add ?
Connor Clements : If anyone wants to contact me you can find me on Twitter and Facebook . Also you can join the James Facebook page and help spread the word about the film.
My website is http://www.connorclements.tv though it is need of an overhaul. I plan on making my website more interactive over the coming months by adding more video content, particularly relating to my writing process and whatever else comes to mind – hopefully it will become a place to express my creativity as I struggle through my next project!
Best wishes,

Connor
I would like to thank Connor Clements for providing me a review copy of James – this making this review possible. I also would like to thank him for taking time to answer to my questions .