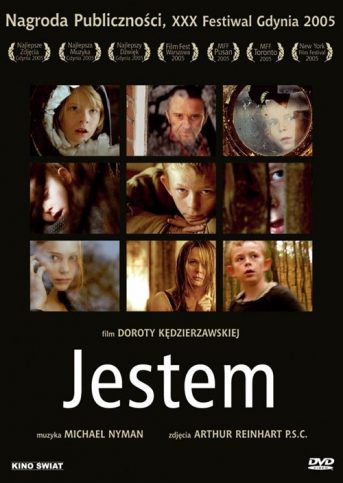 Jestem is one of those movies which makes me feel sorry that I was not able to watch it on a big cinema screen.  It is visually rich and the viewer will definitely remember many of its stunning scenes.  The cinematography is remarkable – to the point that at times it almost feels like you are seeing and experiencing a visual poem.  The use of warm sepia coloring  gives an almost fairy-tale  feeling to the story – a fairy-tale about adolescence and the cruelty of life. In addition to that, Jestem has a powerful story that is guaranteed to make you think deeper about life and its injustices.
A powerful coming of age drama – Jestem (also known as I Am) is a film about a young homeless boy who lives alone on an abandoned river barge because  nobody in the world seems to care about his existence – not even his own mother.  In fact, she is quite a negative character in the film – young and attractive but  an irresponsible mother. One could not help it but condemn the way she treated her son.
As the movie focuses on the experiences of its young protagonist, the director relied largely on the performance of  Piotr Jagielski. From the opening scene and throughout the film, the camera focuses on the boy and his face frequently appears and fills the screen. It must have been quite challenging to be the lead actor in Jestem and Piotr Jagielski seems like the perfect choice for that role. He is comfortable in front of the camera – and successfully conveys his emotions to the viewer.
Obviously,  Director Dorota Kedzierzawska has some experience in directing young actors, as I can't imagine how otherwise such flawless scenes could be recorded.  She seems  perfectly able to penetrate the child's world and allow us a peek inside the soul of the movie protagonist. An article about her in Wikipedia confirms that observation:
"Kędzierzawska is the director of several acclaimed films, such as Devils, Devils, Crows, Nothing, and I Am. In her films, she concentrates on the experiences of disadvantaged children who contend with a difficult financial situation, rejection by adults, or both."
The film's soundtrack, composed by Michael Nyman, contributes to the atmosphere in Jestem with melodic, almost mystical vibes.
The film won several awards, including the Audience Award at the 30th POLISH FILM FESTIVAL in Gdynia (2005) as well as the awards for Best Cinematography (Artur Reinhart), Best Music (Michael Nyman), and Best Sound (Bartek Putkiewicz). It also received an award from the jury of the 29th Kinderfilmfest Berlinale 2006, and the Award of the President of the Italian Republic – second place in the "Free to Fly" section at the 36th Giffoni Film Festival in Italy.