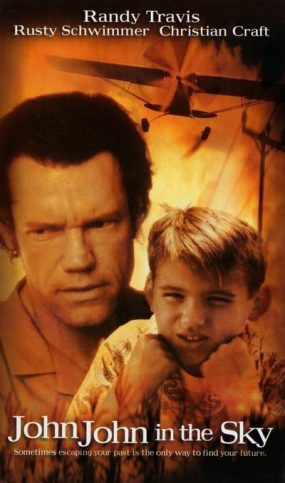 "What's the difference between a model plane and the real thing? Scale  — that's it."
Most Coming-of-Age films have one thing in common: they always tend to bring a sense of nostalgia to the viewer. And, in my opinion, that's especially true if the action takes place in the American South, which induces our sense of past times while presenting us with characters and heroes who are continually conscious of theirs. Some do a better job than others. The film, John John in the Sky (also known as I'll Wave Back), is one of the best films in the genre. It will capture the viewer's attention and remind one's own adolescence.
The story in this film is best summarized by the phrase "a trip down memory lane". It follows a father (John Clairborne – played by Matt Letscher) who brings his son to the place where he spent his own childhood, to recall the people and events that shaped his personality.
As the elder John recalls his childhood (he was called John John back then), he remembered his closest friend – a thirty-two-year-old mentally challenged woman who seemed to be the female version of Peter Pan. She had hung out with the ten-year-old boy, plotting plans with him to build a plane that could carry him and his mother to San Francisco. The young John John (played by Christian Craft) and his unusual friend, Zeola (Rusty Schwimmer), are two of the most adorable characters you will ever see on screen. Their friendship is heartwarming, even though, as, in all friendships, it's challenged more than once. This is especially true when John John was befriended by a boy his age who didn't hesitate to insult the woman because of her mental condition.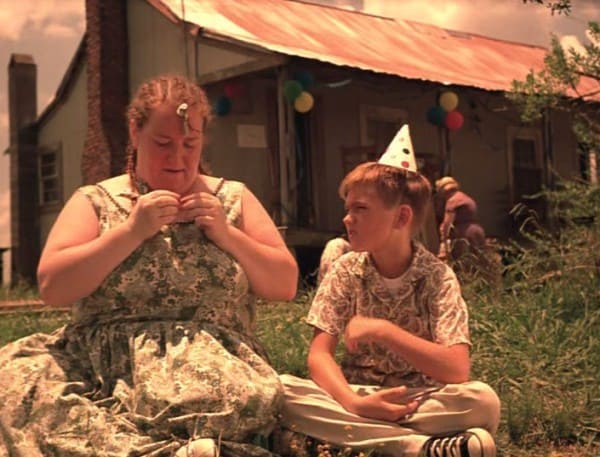 In John John's family, things were far from perfect. His father was harsh and abusive, while his mother's only dream was to run away and live in a hippie commune where she could "sit around and listen to music." In between the extreme opposites of his parents – the little boy had a hard time making sense of his father's "down to earth" beliefs and his mother's laid-back, abstract idea of life. While his father provided for the family, he often badly threatened his wife and son. The father believed he was merely insisting on discipline, but, in reality,  his abusive behavior made him "mean as a snake," as John John told his friend Zeola.
John John in the Sky is a beautifully shot film with excellent camerawork and photography. It features beautiful scenery bathed in colors, making the film pleasurable. The editing is equally good, with frequent flashbacks and fading transitions between the scenes. The transformation from the present to the past and back to the present again, as the father recalls his childhood is, by far, the most enigmatic presentation of a time trip you will ever see on film. You are guaranteed to relate to the characters thanks to the splendid acting and the immense talent of the film's cast. Add to that the blues/honky-tonk soundtrack, the powerful story, dramatic ending, and the various moral issues that the film raises, and you have a prime example of a masterfully done coming-of-age drama that is well worth your time.
Film title: John John in the Sky
Alternative title: I'll Wave Back
Release year: 2000
Director: Jefferson Davis
Cast: John Clairborne, Rusty Schwimmer, Christian Craft, Randy Travis, Romy Rosemont, Aunjanue Ellis, Gemini Barnett, and others