"Reading books can be a lot of fun when they are not the same ones they make you read over and over and over till you want to shoot yourself."
Quoting the protagonist of Frank Portman's novel King Dork is just about the best way I can think of to open its review — for I chose the book on my own, expecting it to be entertaining, and it did not disappoint me. Frankly one can apply this quote to almost anything in life (including writing book and movie reviews) and it still holds true.  Basically King Dork has a Coming-of-Age theme,  but with a surprising twist that makes it equally enticing to readers of all ages (much like Rule of the Bone written by Russell Banks). King Dork even reminds me of The Diary of The Wimpy Kid – only King Dork's hero is wittier, smarter and more true to real life.
King Dork is basically this American teenager who is really an outcast at his school – something for which he seems equally willing to blame himself as well as those in society he calls  "normal people".
"I felt bad, but I did it anyway, because I'm only human. I was ashamed of myself and depressed afterward, though, which is human, too, I guess. Being human is an excuse for just about everything, but it also kind of sucks in a way."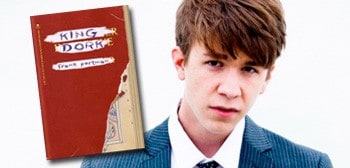 His real name is Tom Henderson, but everyone calls him by the somewhat derogatory nickname Chi-Mo (often shortened to Moe). Name calling certainly isn't anything new. When I was his age my obsession with a certain music band resulted in attaining a nickname myself (Hanson if you must know).  Yet the story behind his being named Chi-Mo is quite peculiar and something Tom is anything but happy about:
"Still, anyone who calls me Moe, even when they may mean no harm, is a potential enemy. That's just the way it is."
Tom's father died amidst mysterious circumstances when he was just eight and now, as a teen, Tom tries to re-establish (or reinvent) his father's image. He gets little or no support from his mother or step-father, but then he discovers a collection of books that once belonged to his dad – among them a copy of Catcher in the Rye. The book itself, and Chi-Mo`s sentiments about it, are one of the main themes of King Dork; so much so that, in a way, King Dork can be referred to as: a book about a book.  In fact, several books are mentioned and while I'm happy to note that all of them are Coming-of-Age narratives, I was shocked (as they are all classics of American literature) that Chi-Ho is so critical of them:
"A couple of the books were familiar from school as Catcher in the Rye alternates or runners-up. That is, if Catcher is for any reason unable to perform its official duties, they make you read one of the other ones instead. There was A Separate Peace, which is about this irritating guy who keeps trying to make this other irritating guy fall and break his leg until he finally does and ends up dying. And there was Lord of the Flies, which is kind of like Hillmont High School meets Gilligan's Island, except that the goons in charge are prissy English schoolboys instead of normal red-blooded American alpha psychopaths."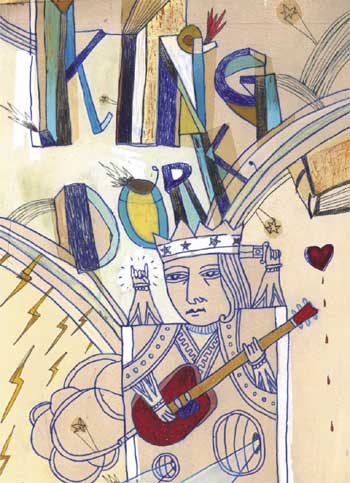 OK, maybe I'm overusing quotes in this review, but they serve a purpose: to convince you that King Dork is great choice of a book for you to pick up – full of humor, life observations and what not. The fact that it is written in the first person – with its protagonist rather frequently addressing the readers directly — only adds to its appeal. While the action is set at an American high school – the survival tactics, peer pressure, pick-up lines, etc. are universal so that people who haven't spent their youth in a US based institution won't have their reading experience curtailed (I can definitely relate to some of my own US high school based memories).
King Dork features abundant references to musical bands of the 60s and 70s.  This is mainly due to the fact that Tom and his best friend want to have a band, which has trouble getting off the ground.  The proposed band, whose name is changed every now and then, also has a musical playlist that gets constantly changed every time the boys talk about it (a total of 25 changes within the book). Those reoccurring changes both serve a comical purpose and help establish a continuity reflecting on events and people within the world of the story.
There are some references to drugs and sexuality, but frankly a book that focuses on the high school life of kids from the 60s to nowadays is bound to include such references. There's nothing really vulgar or overly offensive – and definitely nothing new for anyone who is in high school or has ever been in one. And that pretty much sums up the intended audience: anyone 13 and older would love the book as much as I did.
OK, I will admit that, while I liked the descriptions of everyday school life and the clever irony utilized in their crafting, I find the mystery Tom was set on resolving somewhat less relevant (at least in my own experience) and intriguing. Yet, while he was pondering this and that clue, so many things appeared to be happening at the same time that I did not really mind the mystery part of the novel all that much.
When you read the final chapter you will discover a detailed listing of all the band names and a glossary unique to the book that I found ingenious. Especially so is its definition of an "epilogue".  It reads:
"Just when you think a book is over, there are suddenly like twenty more pages to go, because some writers just doesn't know when to stop …"
Well I do and I'll stop here. But seriously — get yourself a copy of King Dork. Recommended !