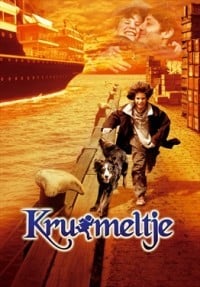 Preparing for the Holiday Season, I found myself choosing another Dutch film. Maria Peters's Kruimeltje (Little Crumb) is an adaptation of a novel by popular children's books author Chris van Abkoude. The main protagonist is an orphaned young boy (played by Ruud Feltkamp) living in Rotterdam who cruises the streets in search of adventures.
Little Kruimeltje has a tough life. Mrs. Koster (Sacha Bulthuis), the old widow who takes care of the 10-year-old lad, is not very concerned with his well-being. She wants him to find a job to bring some income into the house but, to her disappointment, the lively little fellow prefers to hang around and get into mischief.
Then Mrs.Koster gets seriously hurt in an accident. On her death bed, she begs little Kruimeltje for forgiveness and gives him a medallion with the photos of his parents. It turns out that he is not an orphan, but his mother left him at a very early age, giving him into the care of the old widow when his father left for America in pursuit of a better life (and gold).
By now you may have recognized similarities with at least two characters from the works of Charles Dickens: David Copperfield and, most importantly, Oliver Twist. Although the story deviates from those classic tales at times given the different settings, the cinematic experience of watching Maria Peter's film is quite similar to viewing an adaptation of one of Charles Dickens's masterpieces.  It is not hard to come up with another Dutch character to compare Kruimeltje with – again a street child and equally mischievous: Ciske de Rat, starring actor/singer Danny de Munk in the role of Ciske.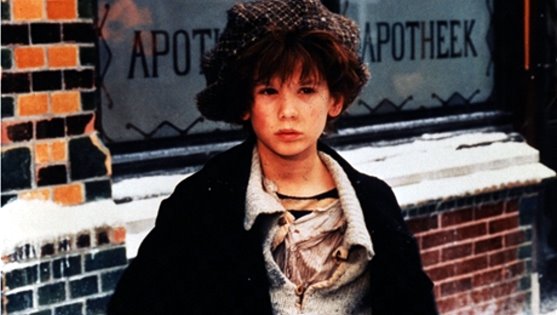 It seems that street life,  with its hardships (but also the fun of it) is an essential theme in Dutch childrens literature and films. According to Wikipedia, the author of the book on which the film Kruimeltje is based "spent much time on the streets, where he amused himself with all sorts of mischief. He was an angry boy who could get upset about injustice"1. Personal experience and inspiration from his own youth undoubtedly influenced his writing and that may be one of the reasons why Kruimeltje is such a likable little lad (I could draw yet another comparison between him and Mark Twain's Tom Sawyer).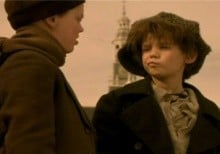 There is one more similarity between Oliver Twist, Ciske the Rat and Kruimeltje: their stories have been all turned into successful musicals. Given its lead character, that makes me very optimistic for the success of Billy Elliot The Musical, a production of which is reportedly being mounted to play in the Netherlands in 2014.
Back to the film…
Kruimeltje feels a bit like a fairy tale and, as such, is quite pleasant to watch. Yet I would personally have preferred a shorter screen time rather than the two hours that the film runs. Enjoyable at first, the narrative drags for a while.  Then, as the story nears its culmination, it becomes much more emotive and I am not ashamed to admit that I was really moved by the final scenes. Somehow, while the ending was not a real surprise, it made up for the earlier frustration that built due to the  relatively slow pace at which the story developed.
Kruimeltje would make a perfect choice for family viewing as,  not only is it entertaining and heartwarming but, it's guaranteed to inspire moral values in its younger viewers (and in the older ones too).
Kruimeltje (1999) Trailer
Film title: Kruimeltje
Also known as:  Little Crumb
Release year:  1999 –  Movida/Trix, Shooting Star Filmcompany BV
Director: Maria Peters
Cast: Ruud Feltkamp, Hugo Haenen, Eric van der Donk, Sacha Bulthuis, John Kraaykamp, Rick Engelkes, Thekla Reuten and others