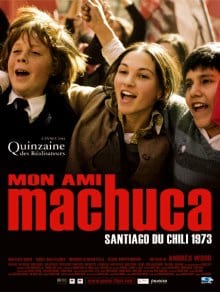 I watched Machuca yesterday – the plot is quite interesting- and a bit controversial . I am not familiar with Chilie were the actions takes place – but regardless I truly enjoyed my first Chilean movie. The main character is the young Gonzalo Infante – I even thought that he is the one who is called Machuca .
It turned out that Machuca is a name of another boy who befriends Gonzalo at school. In a way the two boys reminded me of the prince and the pauper – Gonzalo being from a rich family – a bit spoiled may be – and Machuca coming from the poorest neighborhoods – attending the school of Gonzalo only because the priests there tired to run some social program for integration or something like that.
The most antipathetic character for me in the movie was the cousin of Machuca – Silvana – who treated Gonzalo really badly calling his Snob and making fun of him every time she can. She teaches the boys how to kiss and hang out with them – but my overall impression of her is very bad. I am moderately tolerative by my opinion – but in a way the movie did not succeed to make me feel sympathy for the Indian/ gypsy inhabitants . Probably it is not easy to act otherwise if you are born in such neighborhood and discriminated against all your life – but still I could relate much more to Gonzalo then to Machuca.
Gonzalo and Machuca become very good friends – despite the bad treatment of Silvana . The parents of both boys – or at least their mothers seem to approve the friendship of their sons – they are having fun and earning money – by selling Chilean flags on political rallies of Communists and Nationalists on the streets. Those rallies become more and more violent and seeing the Chilean reality through the eyes of Gonzalo can really keep you starring at the screen. You can learn a lot from this movie – I saw some opinions of people who lived in Chilie who stated that everything – the dress code , the products , the expressions – etc is very realistic . I was surprised myself – as the Saint Patrick School could have been in the UK – I never realized that such institutions were present at Chilie .
Machuca is great coming of age movie and highly recommend it .