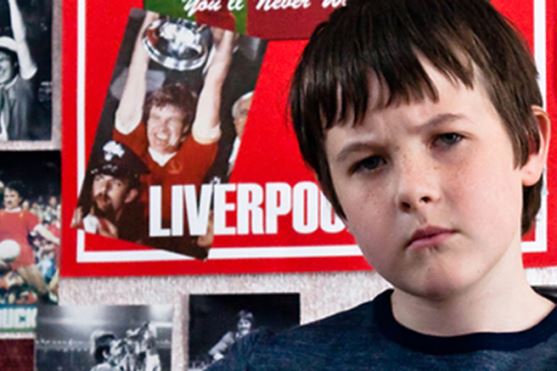 An Oscar nominated short film that really made my day, Pentecost (2011) is a sight to behold. Charming, funny, dramatic, rebellious and even scandalous are all adjectives that can be applied to the story of the young altar boy passionate about …about…about…. Football!  What else?
Damien is an altar boy – not a calling for him, but a chore. One day, while daydreaming (on the job), Damien causes an accident while carrying the incense burner (thurible) at the church. Everyone is outraged, most of all his father, who forbids Damien to play, watch or listen to football for three months – the ultimate punishment for a passionate fan.  Yet not everything is lost and the boy is gracefully offered a chance to redeem himself.  An important Mass is about to take place in the local parish. The Archbishop is invited and Damien is the only available thurifer…
What happens at the Mass is for you to discover …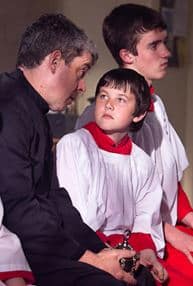 Written and directed by Peter McDonald, Pentecost is a remarkably refreshing and creative film. With ingredients such as sports, religion, youthful rebellion, and individuality – the Coming-of-Age experiences of the young Damien are guaranteed  to charm and bring a smile to your face (unless you are quite conservative. But even if you are, it's hard to resist). Even if it is just for the "warming up "scene in which the priest prepares the boys for the most important Mass in their youthful lives. A perfect symbiosis between the tension building before a game of sports and a Mass – never before seen. Or is it? Those of you who once served a Mass would know. The angelic beauty and mischievous nature of boyhood are splendidly mixed  in Peter McDonald's film.
 Scott Graham (Damien) has some previous acting experience and delivers a natural and emotive performance. Identifying with his character is easy. Predicting what choices he will make is not.
Growing up in Catholic surroundings is a theme of choice for many British and Irish filmmakers. Recall, for example,  Tanel Toom's 2010 short film The Confession, or the 2003 full feature drama Song for a Raggy Boy. Yet Pentecost is the first humorous take on religion, expectations and clash of the generations I've had the chance to see.
A thought provoking, joyful short of eleven minutes – well worth its Oscar nomination.
Watch the full entire film below :