Not a pirate but an adventurer of independent means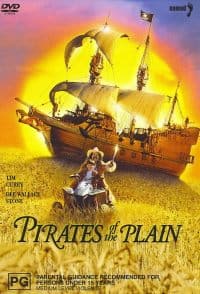 What would you do if you met a real pirate – a high seas pirate who sails on a ship in pursuit of treasures and adventures? Maybe he will become your best friend – or foe…
Bobby (Seth Adkins) is a young boy with a wild imagination. He imagines aliens, cowboys and robbers – imaginary playmates filling his world, which otherwise would have been pretty boring as Bobby lives in rural Nebraska with his mom. Bobby's fantasy world Bobby is so vivid, its characters so real to him, that his mother even thinks it's spooky.
One day, fantasy becomes reality – supernatural forces sent through time in the form of a high seas pirate Captain — Jezebel Jack (Tim Curry). So a boy and a pirate meet and, despite their differences, they become friends – best friends.  But can you trust a pirate? And what happens when Bobby, Jack and the crew of Jack's ship, Delilah, end up "sailing the amber waves of grain " in Nebraska?
Pirates of the Plain is a wonderful comedy. If you are a child, or are still able to look at the world through a child's eyes,  you will greatly enjoy the humorous scenes and dialogue in the film. The performance of the two leads – Tim Curry and Seth Adkins – is captivating.   I doubt I have ever seen a more sympathetic portrayal of a pirate (oh I meant "an adventurer of independent means " ). Seth Adkins' adorable smile, his wonderful expressions and his playfulness are  guaranteed to win your heart.
As entertaining as Home Alone and as intriguing as Peter Pan – Pirates of the Plain is a splendid family film that the whole family will enjoy.