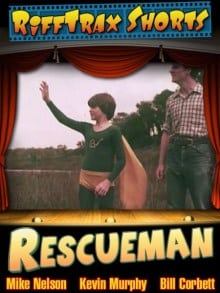 For some reason I am drawn to films, books and even photographs released years before I was born. With their vintage atmosphere, the retro style has a unique appeal that I find inspiring. Yet besides reviewing classic films and maybe mentioning a music band now and then, I rarely have the opportunity to discuss that passion of mine.
A few days ago, I stumbled upon a great short film, which was actually a combination of an American public service announcement and a funny commentary recorded by a team of comedians (Michael J. Nelson, Kevin Murphy —  and with Bill Corbett heckling).  It was for a website called  RiffTrax.
The short film with the intriguing title Rescueman was originally intended to educate youth on safety procedures while riding on school buses. Or, in other words, what kids should do if an emergency should arise while they are riding the bus. To make things easier for the kids to grasp, the story is told from the view point of a young boy – Scotty – who is obsessed with a superhero named Rescueman. Such a lesson could be useful and interesting and, with the audio commentary added, it's transformed into a hilarious clip. The older readers of this article may recall the original public broadcast from their school years and kids nowadays will enjoy it immensely; I know I did (thanks to the retro aesthetics plus the creativity of the narrative).
See what I mean for yourself in this short clip:
A quick exploration of  the RiffTrax website resulted in many titles shot with young actors such as: When Should Grown-ups Stop Fights?, The Other Fellow's Feelings, Ghost Rider, Safety with Animals, Say No to Strangers, Sailing a Toy Boat…to name but a few. Such public announcements were frequently shown at schools in the past and, while that is rarely the case nowadays, RiffTrax short films breathe a new life into them.
While viewers of these shorts may have a good laugh at the commentary, it's almost guaranteed that some of the undoubtedly helpful messages embedded in the films would reach young and older audiences alike. All short films featured on the RIffTrax website come with a teaser and cost less than a dollar to buy and own.
Promising RiffTrax shorts :