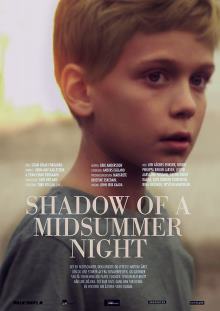 Shadow Of A Midsummer Night ( Midsommernattens Skygge)  is a short Coming-of-Age film from Norway about a nine-year-old boy who loses his friend in an accident.
The movie focuses on friendship, grief, support and overcoming sorrow. Beautiful cinematography (courtesy of Kai Miedendorp) relying on lens flare, and bright, warm colors evoke an almost fairy-tale sense of the picture.  The film's musical score features the  ringing of bells and timbales. The movie's visuals adjust to the development of the story it tells and, in its second part, the yellow is replaced by blue — symbolizing the sadness of the main character.
The real achievement of the film is the symbiosis of magical and unreal with everyday life as we know it. Its story could happen (and probably has happened) anywhere to anyone.  If you have ever lost someone you love,  you will find it easy to associate with the young protagonist (played by Jon Vagnes Eriksen).
While the story is fairly predictable, director Stian Einar Forgaard has included a surprisingly shocking scene that could have potentially changed the genre classification of the film. And that's all I'll say about it so as not to spoil the viewing of any of our readers who may decide to watch the film.
Shadow Of A Midsummer Night can be seen in its entirety at the Facebook Page of its production company: Phantomfilm