If you like uplifting films, you can't go wrong viewing Gennaro Nunziante's 2013 comedy Sole a catinelle (Sun in Buckets). Unlike most Italian films, Sole a catinelle is the antithesis of Italian Neorealism. While you may have to forgo your sense of disbelief, doing so is guaranteed to give you 87 minutes of pure fun.
Fans of the Coming-of-Age genre will mostly appreciate the brilliant performance of the sympathetic young Robert Dancs, who undoubtedly is one of the most charming actors to have graced a movie screen. That and, of course, the beautiful portrayal of a father-son relationship, which can only be described as inspirational (plus it brought back memories of adventures with my own father).
The action is set in modern Italy, right in the middle of the Economic Crisis that has affected everyone in Europe. Well– not everyone – an exception being the 36-year-old optimist Checco (played by the Italian comic Checco Zalone): "Aspiration is everything!" We get to form our sense of his personality thanks to the impressions of his son Nicolo (Robert Dancs) – a ten-year-old kid from whose view point we experience the majority of happenings in the film. As Nicolo describes his father: "Papa's name is Checco. He's 36 and……from the South.Tall……handsome, cool, muscular……he's NOT. But he's really nice and likeable."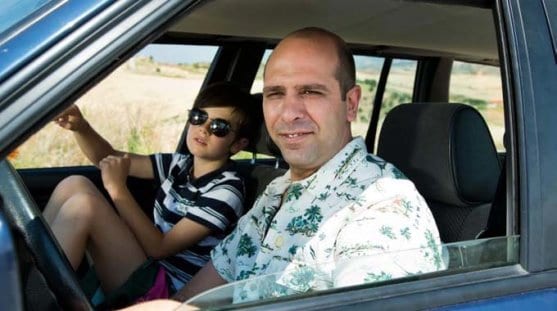 The way the narrative is presented reminds me of the 1996 Portuguese film Adeus, Pai, which shares a similar perspective of a son – commenting on his ideas, impressions and aspirations for his father. There are significant differences, of course, as Sole a catinelle is much more lighthearted and humorous than the Portuguese film of Luís Filipe Rocha. Another movie one can find similarities with is Mr. Bean's Holiday (2007) – for its humorous scenes.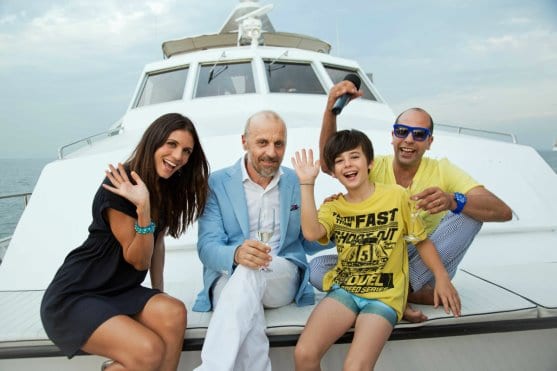 In the midst of the financial crisis, Checco succeeds as a salesman,  but it's his relatives that are buying the products he promotes (vacuum cleaners). When he runs out of relatives to sell to, things start to fall apart and that gets him in trouble with his wife, who has recently become unemployed after the factory where she worked shuts down.  Desiring to keep his super-DAD hero status in the eyes of his son, Checco gets himself in quite a situation after he makes his son a promise that he could hardly keep: he'll give Nicolo a dream vacation if the boy finishes school with glaring grades.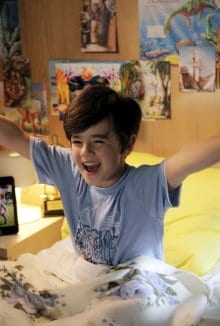 When the boy earns great grades (which his father believed to be unachievable),  Checco has a promise to keep. And so father and son embark on an adventurous journey, which is as joyful for them (well not always joyful) as for the viewer.
The film is well shot and features an incredibly funny soundtrack (some of the songs appear to be sung by the young Robert Dancs himself). As the film centers around a "dream vacation", one almost gets the sense of feeling the salty breeze of the Mediterranean Sea. Sole a catinelle is not a pretentious film, but its appeal lies in its simplicity and the abundance of humorous situations.
I've, at times in the past, complained when the length of a film is overly long , but in the case of Sole a catinelle, I didn't notice how fast the 87 minutes of screen time went by, as every single moment was filled with great enjoyment.
.
Sole a catinelle (2013) Trailer
Film title: Sole a catinelle
Also known as: Sun in Buckets
Release year: 2013
Directors: Gennaro Nunziante
Cast: Checco Zalone, Robert Dancs, Miriam Dalmazio, Aurore Erguy, Marco Paolini, Angie Alexander and others