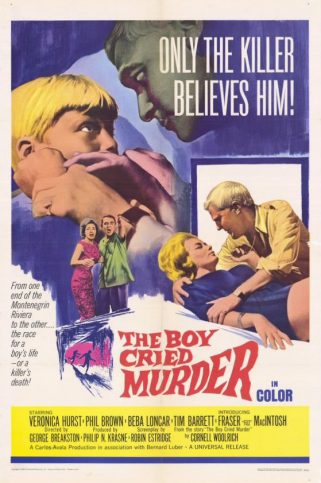 Children often make up stories to gain attention.  Sometimes, if they do it too much, they are eventually ignored.  But when this happens to one small boy, he gets into big trouble.  Will anyone be there to help him?
While on vacation, Jonathan (Fraser MacIntosh) is accompanying his parents on a cruise to a resort in Yugoslavia where they intend to spend a second honeymoon.  Angry that his parents are not paying attention to him, Jonathan makes up stories to attract their attention to him. Once they arrive at their destination, he shows his mischievous nature by setting free one of the dancing bears that a gypsy family was showing as an attraction. Of course, this causes major chaos in the small seaside resort.   He is punished for that.  Later on, when his parents leave on a boat trip without him, he accidently witnesses a terrible crime – a murder.  But who is to believe him – except the killer himself…?
The film is an adaptation of a Cornell Woolrich story of the same name, The Boy Who Cried Murder, and is a coming of age criminal drama that received a lot of attention at the time of its release due to the excellent performance of its young lead, Fraser MacIntosh.
His biography on IMDB describes the young Fraser MacIntosh as a dynamic child actor and he really proves to be one in this film, delivering an emotional and energetic performance. One of the added values of watching films shot in the past is the chance to discover such talented actors like Fraser and compare their acting to today's young stars such as Halley Joel Osemont, Freddie Highmore, Bill Milner – to name but a few.  An interesting fact about the young actor in his biography was that his mother turned down a few casting proposals by Disney at the time "in favor of concentrating on his education".  Sadly, such a decision, even if made with good intentions, often deprives the viewers and the young actors from what otherwise could have been a great career. It also should be mentioned that not all young actors manage to come of age successfully on stage and many have ended up having troublesome personal lives.
The hairstyles and the costumes in the film, as well as all the props, are appropriate for the year it was shot. Though human behavior hasn't changed that much since then, some  viewers will find the movie nostalgic in relation to either their own youth, or the manner of filming in the 60's.  Thanks to the excellent acting and skilled directing, the film manages to build a tension in its viewers despite the familiarity of the plot (one may recall similar situations in Home Alone (even if it is a comedy rather than Drama) and the 1994 John Grisham movie, The Client. There are probably several more titles that were inspired partly by the Cornell Woolrich story on which the film is based, including the The Window and the acclaimed 1984 film, Cloak & Dagger, starring Henry Thomas.The camera work, editing, and soundtrack of The Boy Cried Murder are very captivating and furtive, yet the film may fall short by today`s standards – which however doesn't lessen the experience of seeing it .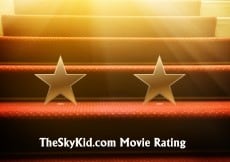 Film title: The Boy Cried Murder
Release year: 1966
Director: George P. Breakston
Cast: Veronica Hurst, Phil Brown, Fraser Macintosh, Tim Barret, Beba Loncar, Edward Steel, Anita Sharp-Bolster, Sonja Hlebs, Alex Macintosh, Vuka Dundjerovic