Noa Johannesson of Jonkoping Sweden born 29 May 1992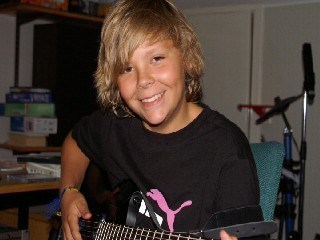 Noa is every father's dream of a child made to order, and his father speaks proudly of him.
I can honestly say that it gives me great pleasure when something comes up that gives me cause to contact this wonderfully musical family. I know it is going to be a pleasant experience, no matter what it is.
Noa is an incredibly gifted young man, although he thinks of himself just like every other kid. And he is. He is just like every other kid who plays multiple instruments and sings with a voice of subtle beauty, full of richness and depth, not to mention his great stage presence. His interaction with the camera is natural, and the lens likes him a lot. Much of the credit for that goes to his Dad's incredible editing skills.
He began playing the guitar when he was ten, and he says he has been singing all his life. Noa's number of videos has counted to only three, but the three he has done speak for themselves in their quality and their following.
He plays Lead Guitar, Bass Guitar, Drums in his Roxanne video and has laid down audio tracks. That is a lot of studio time, but Noa enjoys it, and so does his Dad. Tommy is his videographer, audio technician, band and friend when he isn't playing the Dad role or working his regular daily job. They both count it as quality time spent with the other.
Noa Johannesson – Roxanne
The process of creating a quality video product is extensive, especially when one person is doing all the parts. So Noa is no stranger to hard work, and when I asked him how he keeps motivated, he responded that he thinks about the finished product and how it will sound when he is done with it. That keeps him going.
His video, "Time After Time," showcases this young artist's subtle inflection beauty and style, as well as his wonderful treble range. He exhibits gentle control as he navigates through the notes in this most beautiful well-known piece. His attention and absolute pure tone are unique to this fine young man.
Noa Johannesson – Time After Time
When he's not singing, he does everything a normal kid does; TV, hanging out with friends, riding his mini-bike, video games and YouTube.
I asked him if his friends had an opinion about his music. He said they like it, and he's never heard any bad comments, and his friends watch his videos on YouTube. I asked him what it was like having people recognized because of his videos. He said it has only happened a few times, and although it is a little weird having someone know you when you don't know them, he says it's still a pretty cool feeling.
Noa has just tested and has been accepted as a music major for the next three years. For the admission testing, Noa has written some music and hopes to share it with us soon. We certainly look forward to it, as we have for every new instalment. Having been penned with his own hand, we are even more intrigued to see his new piece's genre and flavour. Until it is ready for broadcast, his fans wait with great anticipation.
When it is ready, he won't say, but one thing remains certain. Noa and his music will be around for a while to come. And so will his fans.
While Noa is ready for his voice to change as he is anxious to start music towards a little rougher rock genre, we will miss this treble when he finally does break. And at 16, he is on borrowed time. I, for one, am grateful that he has been blessed with it a little longer. The world would have missed out on an exceptional voice if he had broken earlier. I send this message to you, Noa.
"Do not be in a hurry. It will come in time. Meanwhile, make hay while the sun shines. SING!
Once again, confirming his ultimate talent. Bravo Noa!
Please see Noa's BCSD profile, where you will find links to his other sites for more information.
The Gentle Voice of Noa Johannesson in Audio