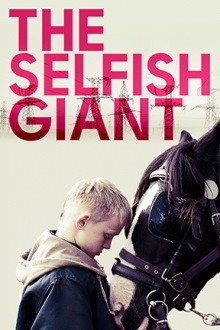 Few movies better address social problems and inequalities than those that portray those realities in the United Kingdom. In 1999, Lynne Ramsay directed Ratcatcher, a distinctive example of a film that defined a problem in society in Glasgow, Scotland. More recently, The Selfish Giant, directed by Clio Barnard, achieved great success in exposing social vices in England.
The protagonists of The Selfish Giant are two British teenagers. Much of the film's story focuses on their daily lives and experiences as underprivileged youth growing up in poverty-ridden Yorkshire, England. Clio Barnard wastes no time in attracting the attention of viewers of her film. The film's non-typical, quiet opening serves its purpose by sharply contrasting with the first scene when suddenly viewers are thrown right into the action.
Fourteen-year-old Arbor (Conner Chapman) is a tough boy with a surly temper that often gets him into trouble at school. His best friend Swifty (Shaun Thomas) has quite a distinct personality and appearance. He is taller, quieter, calmer and generally more mature than his younger mate. The striking extremes of their characters are emphasized by their reactions to events and by their facial expressions. While their friendship is essential to the story, the director has achieved excellent characterizations by emphasizing the protagonists' divergences.
As the story progresses, both boys get expelled from school and decide to make some money by collecting scrap metal. The adults that operate the scrapyard take advantage of the boy's naiveté. Stealing is encouraged and becomes desired by the young boys in their pursuit of bigger monetary rewards. Copper wiring is where the real money is but, besides being illegal, procuring the metal puts Arbor and Swifty in constant danger.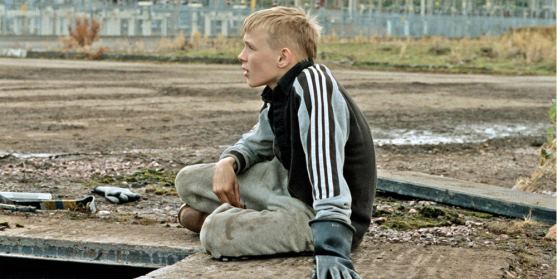 Undoubtedly, while watching the film, you will ask yourself who is the guilty party. Are the boys failing to meet the expectations of society, or is society failing them. No kids should (by "putting their backs into it") be doing work reserved for adults, and yet many choose to or are forced to by various circumstances. Director Bernard has some experience with documentary films, which probably contributed to the poignancy and realism of The Selfish Giant.
While it's relatively easy for most actors to portray a kid in distress, young Conner Chapman manages to deliver a particularly striking performance. One can literally feel his rage in some of the scenes yet recognize the tender side of his youthful soul in others. Connor's acting brings to mind Harley Cross's performances in the 1999 drama The Boy Who Cried Bitch and of Robert Naylor's performance in the 2010 film  Dix et demi. After such a striking and powerful acting debut, it's only natural to expect more films with Conner Chapman in the lead role.
Not everyone is fond of social realism, as portrayed in the cinema. Not everyone is comfortable with grimy, dramatic turns of events. Many would prefer to put on their "rose-coloured glasses" and forget that such things as poverty or inequality exist. The Selfish Giant is a tough movie about tough kids, tough people, tough luck and tough fate, and it will take a lot of effort on the viewer not to be affected by its poignant story.
The Selfish Giant UK trailer
Recommended read: Interview – Junkyard Boys: Conner Chapman and Shaun Thomas on tackling The Selfish Giant.