The Unknown Soldier's Patent Leather Shoes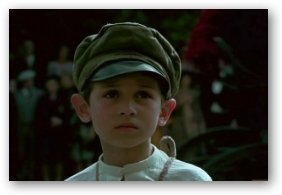 … then the fighting ended, the dangerous, First World War.
… the house was burned, with all the brothers and sisters lost, all turned to ember.
… he sang his song, the song of the wretched orphan.
"The Unknown Soldier's Patent Leather Shoes" is quite an abstract coming of age movie. Its very unusual as this time, the childhood of the main character is told through the eyes of a grownup, who also narrates the story. Saying that the world in "The Unknown Soldier's Patent Leather Shoes" is as seen trough the eyes of the child, would not be an accurate statement, because to a child, the would seems like a snapshot in time, frozen with no advancement or growth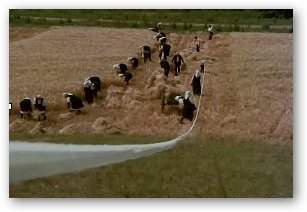 The story is told, mostly through narrative. Overall the movie is very experimental and my opinion is that it won`t appeal to all viewers. It could be compared with the works of Tim Burton, and while I am definitely not fan of such abstract creations, some of you may like it a lot.
The main character is in fact, the movie director himself, who remembers his childhood in remote Bulgarian village. While he narrates the story as an adult, on screen we see the 7 year old boy that he was. A boy with a vivid imagination absorbing the surrounding reality. Miracles, conceived in the unrestricted imagination of a child. He recalls all that he knew, feared and admired.
The camerawork in the movie is very good, if not great. In his review, Roger Ebert refers to it, as being fluid, graceful, and poetic. At the same time the acting in the movie is quite good, especially considering the fact that no professional actors were cast. The soundtrack is also worth mentioning, as it is rather unique, consisting almost entirely of regional folk songs .