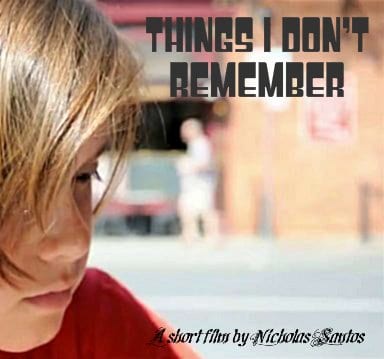 A task: discover short indie films that capture the essence of childhood.
Discovering the movies of Nicholas Santos: mission accomplished!
Nicolas Santos is a film maker based in New York City. His movies first came to my attention when I discovered his short film Things I Don`t Remember on the open film website, which has proven to be an invaluable resource for amazing independent movies. Impressed with his film making style, I soon discovered yet another film he wrote and directed titled Kiddo. On both films he was assisted by Kyle Kelley- a cinematographer who left his unique mark on them.
Things I Don't Remember is seven minutes long and does not feature any dialogue; however, the expressiveness of the two main actors (the brothers) more than compensates. The young  Jackson Quinn Gray also appeared in the 2010 short Kiddo and, although his acting in Kiddo did not disappoint, his performance in Things I Don't Remember felt somewhat more sincere.
The story line in Things I Don't Remember is simple – big brother/little brother and the experiences they share during a hot summer day. The film focuses on all those small things that  happen in our lives, things that we have waved off as unimportant and forgotten.  Then occasionally a day comes along during which something happens that makes us feel good inside – perhaps it's just a moment or a smile. Things I Don't Remember feels like a reminiscence of our own special little moments. The director's idea for the film is to make it appear as if one is watching an old VHS tape (which is the equivalent of a DVD for our younger readers) and Kyle Kelley's choice of brightly overcast scenes and the clever usage of the "flick effect" recreated the aesthetic we commonly associate with the nostalgic recordings of out childhood.
Things I Don't Remember is a feel good movie that I really liked. Having seen it and Kiddo, I can't wait for a full feature film directed by Nicholas Santos.
Before you go, I invite you to view the Director's Reel of Nicholas Santos, featuring sample excerpts from his works:
Nicholas Santos – Director Reel – 2011