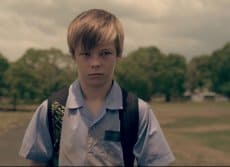 Is time travel possible? Can we shape our own destiny?
You may discover the answers to those questions alongside the young protagonist of Time, a short film that is a finalist in this year's Tropfest in Australia. The film features the credible performance of Nicholas Hamilton in the role of James – an imaginative schoolboy who shares with his friends his take on time travel and, if it was possible,  its potential effects on the present day.
Time travel, in itself, is a concept in the realm of the sci-fi genre (which I am not too fond of), but Director Liam Connor's film takes an interesting approach that is guaranteed to capture the attention of sci-fi obsessed fans as well as those who don't care much for that genre.
Time impresses with its stunning widescreen camerawork and moody soundtrack. The editing of the film and the overall production quality are on a par with many big budgeted full features. Surprisingly the film even contains some aerial and underwater shots – both rarely seen in the short film format.
For the sake of objectivity, I shall mention that I had some trouble picking up the accent of the actors at times, but I assume that any native English speaking persons wouldn't face that problem.
Watch Time in its entirety below :